Advantages to Food truck by using Billion M120N Industrial Router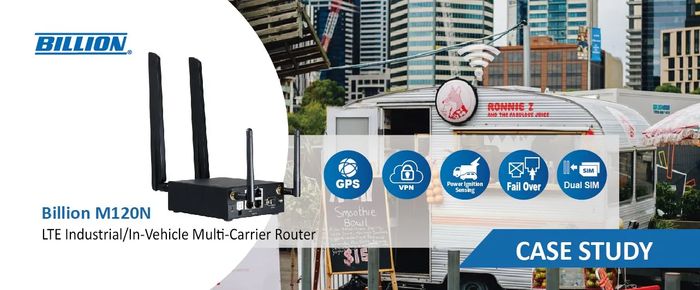 How Billion Solution Helped
Billion M120N in addition to LTE broadband connection, dual-SIM redundancy, and VPN provides a stable and secure network with the best connection for online payment and uses Wi-Fi Hotspot to attract crowds.
GPS real-time location tracking provides the location of the food truck. The GPS positioning system can cooperate with the system supplier's interactive food truck maps to keep followers informed of your location through social media feeds, or use smaller niche networks to attract new customers.
And, Billion M120N supports a Captive Portal function to deliver advertising to customers who are using the Wi-Fi Hotspot of food truck.
---
Results
Billion M120N can create a separate public network for customers, so the food truck can provide customers with Wi-Fi Hotspot at any time without worrying about security. In addition, Billion M120N has flexible power input DC 10V~56V and ignition sensing. With the two functions, Billion M120N is suitable for any types of vehicle and can be automatically turned off to avoid vehicle's battery draining. Additionally, Billion M120N can work with Billion CMS (Central Management System), a centralized management system, to monitor the performance of Billion M120N.
Conclusion
"The Billion M120N is a new product that boosts the food truck business efficiency and it provides an advantage over competitors", said Ted Ho, Chief Technology Officer of Billion Electric.