28 Mar 2023
Cegid to showcase Cegid Retail Store Excellence, its new task management & retail operations platform at Retail Technology Show 2023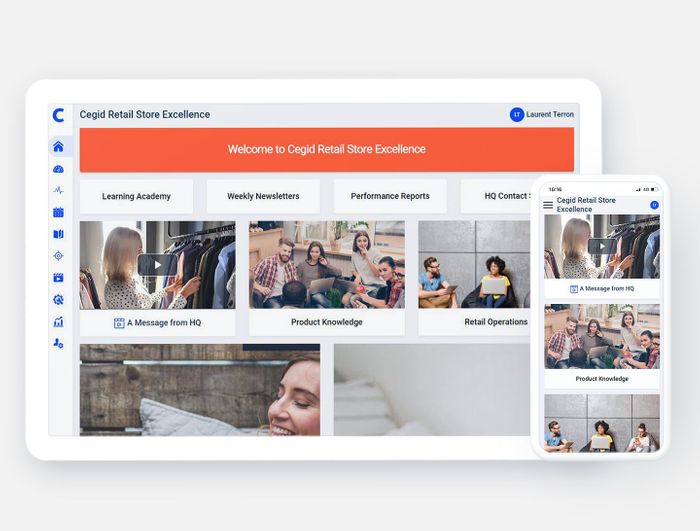 Milton Keynes, (28th March 2023) – Cegid, a global leading provider of cloud business management solutions for finance (treasury, tax, ERP), human resources (payroll, talent management), CPAs, retail and entrepreneurial sectors, will showcase Cegid Retail Store Excellence in the UK as part of its retail solutions portfolio at this year's Retail Technology Show.
Cegid Retail Store Excellence, formerly known as StorIQ, will for the first time be available as part of the Cegid Retail solutions portfolio in the UK, and will be presented at the Retail Technology Show on the 26-27 April at Olympia, London. This solution is the result of the acquisition of StorIQ by Cegid in June 2022.
Cegid Retail Store Excellence counts some of the most prestigious names in retail as clients, including PVH Group, Hugo Boss, Clarks, and Marks & Spencer's International.
Cegid Retail Store Excellence is a market-leading task management, team engagement and activity planning solution that delivers operational excellence and elevates the customer and employee experience.
When utilised alongside Cegid Retail, Cegid's global POS and unified commerce platform, it offers retailers a powerhouse suite of solutions to increase both profitability and offer an exemplary customer experience. Key features of Cegid Retail include a new generation of collaborative in-store apps to support click and collect, e-reservations, loyalty and promotions, sales and inventory tracking to accurately track the movement of all stock through warehouses, shipments, transfers, stores, and deliveries and helps store associates increase sales by fulfilling customer requests in real-time.
As one of the early adopters of Cegid Retail Store Excellence, PVH Group's Robert Newstead will be on stage at the show on 26th April at 11.30am to discuss how PVH's 'Store of the Future' enabled a revolution for store associate experience using Cegid Retail Store Excellence. The session will cover:
How tech innovation can enable store associates to take customer experience to new levels
Evaluate how to give store associates time back to spend with customers
Assess how to use new technology to train and task store workforce more effectively
Simplify complex omnichannel demands through technology
Transform the back office to maximise productivity and boost staff happiness
Rethink labour hours to maximise profitability of the store estate
Cegid Retail Store Excellence increases productivity and gives retailers the tools to reduce wasted labour hours by quantifying and monitoring the volume of tasks scheduled for stores. This then enables head office to control labour costs by ensuring activity is planned effectively around trade peaks. It can also provide insight into how long tasks take to ensure workload is evenly distributed and reduce the frustration of employees feeling overburdened or overwhelmed.
Retailers can access the platform using any device in real-time via a single portal. Using the intuitive dashboard, retailers have an overview of the tasks for each store in addition to monitoring tools to check task execution. Information is displayed in a 'news feed' style to maximise in-store staff engagement and increases job satisfaction by improving communications between head office and store staff. Finally, compliance reports and a customised, real-time dashboard enable field teams to support store teams to deliver brand standards and spend more time with customers.
In addition to hearing first-hand experience from PVH Group on Cegid Retail Store Excellence, visitors to the show can visit Cegid's stand for a hands-on demo of this innovative solution and discover how it integrates with other solutions in Cegid's retail portfolio, including POS and Inventory Tracking to deliver omnichannel success currently unrivalled by any other solution available right now.
By offering a solution that can benefit both Cegid customers who already have access to the Cegid Retail platform and applications and new customers, Cegid is now targeting new market segments such as garden centres, Pet shops and DIY.
"It's imperative that modern retailers can accelerate and adapt to changing market conditions and consumer behaviour," explains Nathalie Echinard, Head of Retail Business Unit, Cegid. "Cegid Retail Store Excellence, alongside the capabilities provided through Cegid Retail Live Store and Cegid Retail Inventory Tracking, offer retailers agility and a superior ability to tap into new sales opportunities."
Cegid can be found on Stand 6C80 at the Retail Technology Show.
https://youtu.be/orYUiZ-mwq8