24 Apr 2023
DECATHLON UK TO LAUNCH UK'S FIRST NATIONWIDE SPORTS RENTAL SCHEME USING RENTLE'S CIRCULAR COMMERCE PLATFORM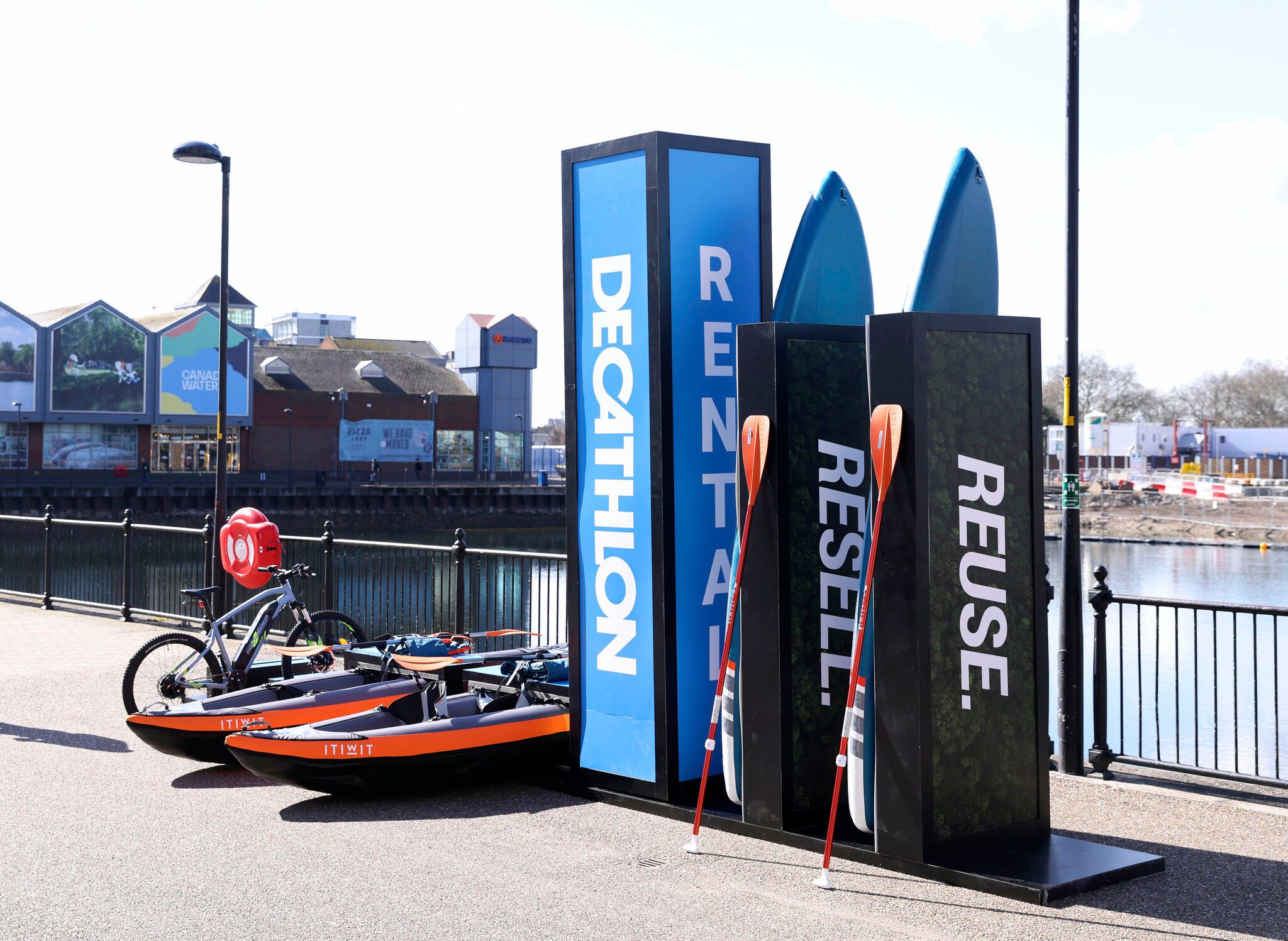 Rentle, a leading circular commerce platform, is proud to announce its partnership with Decathlon UK to launch the UK's first nationwide sports rental service, making it easier than ever for people to enjoy a variety of sports without the financial commitment of purchasing equipment.
This innovative rental service, powered by Rentle, allows customers to rent products ranging from bikes and kayaks for weekend adventures, to stand-up paddleboards and tennis rackets for family fun. With rental prices starting at £10 for tennis rackets and £30 for paddleboards and kayaks, the service also offers a 50% discount on the second day of rental. Decathlon has committed over £1m of products to the scheme in 2023 alone.
This collaboration between Rentle and Decathlon forms part of Decathlon's growing circular economy initiatives, focused on prolonging product lifespan and reducing consumption. Recent research from Decathlon shows that 28% of Brits are eager to try new sports but are deterred by the associated costs. Rentle helps to remove this barrier, making it simple for customers to order online and collect in-store within an hour.
Circular economy practices could generate net economic benefits of €1.8 trillion by 2030 in Europe and unlock $4.5 trillion of economic growth by 2030 globally, as noted by the Ellen MacArthur Foundation, McKinsey, and SUN, and Accenture reports[1][2]. These reports also highlight the importance of innovations in technology, business models, and policy frameworks to enable circular economy transformation.
As a comprehensive platform provider, Rentle focuses on the technology part and enables retailers to servitize their inventory assets by launching sustainable circular economy offerings such as product subscriptions, rentals, and buyback and resales. Rentle removes all friction from the retailer by offering a turn-key software solution that integrates seamlessly with their existing processes.
Rentle's mission is to empower the circular economy by serving existing brands with a fit-for-purpose commerce infrastructure, making the expansion from linear sales to circularity profitable and scalable. The partnership with Decathlon UK is a testament to Rentle's commitment to its mission and tagline: "It's great for your bottom line, and even greater for the planet."
The nationwide rollout of the rental service follows a successful trial at four Decathlon stores, which revealed customers appreciated the option to remain active without investing in new equipment or struggling with storage limitations at home.
Rentle-powered Decathlon Rentals are available online with collection at all Decathlon stores nationwide from today. For more information, visit: www.decathlon.co.uk/rentals.