22 Feb 2023
Edinburgh tech firm secures over £1.5 million in funding to support UK and international expansion plans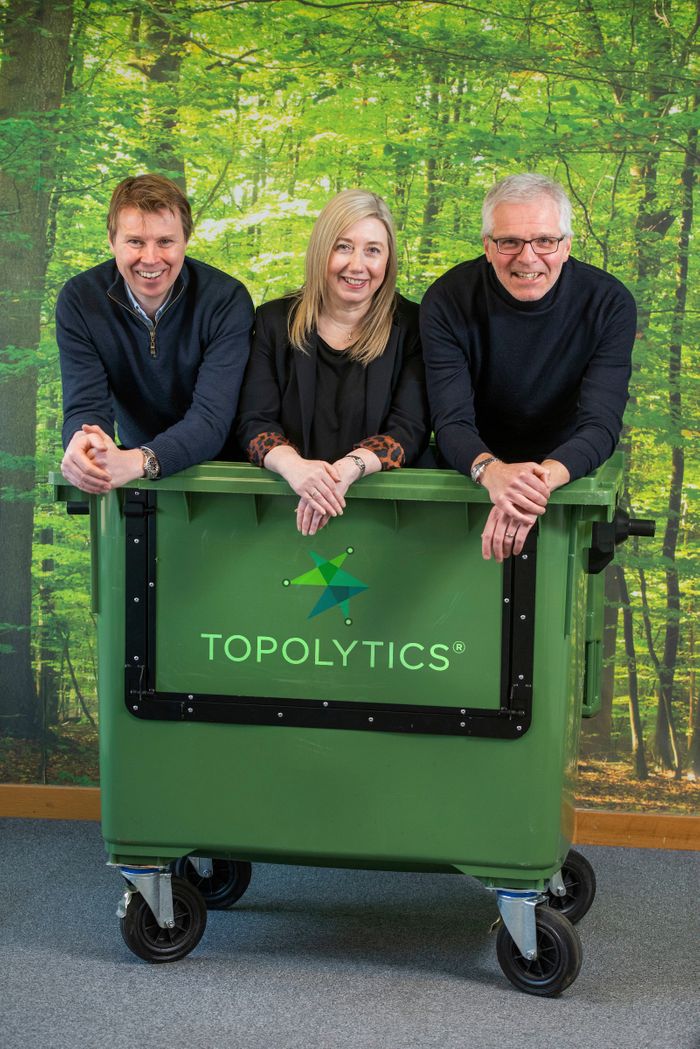 Edinburgh, Scotland – February 22, 2023 – Topolytics, an award-winning data analytics platform that makes the world's waste visible, verifiable and valuable, has received a £1.5 million funding boost, enabling the business to launch its WasteMap® solution and extend the business commercially with new and renewed contract wins in 2023.
The money comes from seasoned high-net worth investors, and a grant from UK Research and Innovation (UKRI). The business targeted private investors who would bring experience of scaling data analytics and SaaS (Software as a Service) businesses globally. The seven individuals are based in the US and UK, and a number of the US-based investors have built, scaled and exited billion-dollar financial data companies. Others are noted players in private equity and investment banking, with track records of investing in and supporting high growth software and data companies.
The individuals were attracted by the ambition of Topolytics to build a global data driven insights business in the waste and materials sector, which is ripe for innovation.
"Topolytics has a growing global reputation for the insights available through our WasteMap® platform. It helps waste producers and recyclers to drive resource and cost efficiencies, to trace the movement of waste and measure their impact, whilst validating performance and improving the quality and reliability of ESG and carbon reporting. It is a privilege to be working with some leading players in their sectors, UK and international businesses alike, that see great commercial and environmental benefit from taking a fresh look at waste," said Michael Groves, CEO of Topolytics.
"Topolytics is delighted to secure investment from high-net-worth investors who bring significant depth of experience in globally scaling data analytics and software businesses. It's a privilege to get the backing of such high calibre individuals from both sides of the Atlantic to support our international growth," said Jane Stewart, Director of Topolytics.
WasteMap® is becoming the defacto platform for waste producers and the waste sector to process and analyse complex waste 'supply chain' data across multiple sites, regions and countries. The funding enables the company to accelerate development of the platform and support its UK and international expansion plans.
---
---
ENDS
Notes to editors:
The UKRI grant was awarded to Topolytics in October 2022, and the investment round was received in H2 2022.
About Topolytics
Topolytics is a data analytics business that is making the world's waste visible, verifiable and valuable.
Its WasteMap® platform generates insights for waste producers, recyclers and government, that enable greater materials recovery, drive operational efficiencies, support investment strategies, enhance ESG reporting and reduce carbon emissions.
Topolytics is acknowledged by IDC, Frost & Sullivan, SAP, World Economic Forum and Accenture as a leading analytics player in the global $4.5Bn smart waste management market.
In 2020, Topolytics created a prototype of the UK government's mandatory digital waste tracking system and was named best Technology Innovation at the UK Recycling Awards. In 2022, Topolytics was chosen as a leading innovator for the global Circulars Accelerator run by the World Economic Forum and Accenture.
Check out WasteMap in this film from the World Economic Forum https://bit.ly/3vuBMUj
For more information, please visit www.topolytics.com