27 Feb 2023
Hobbs and Phase Eight Team Up with Retail Assist for Store Support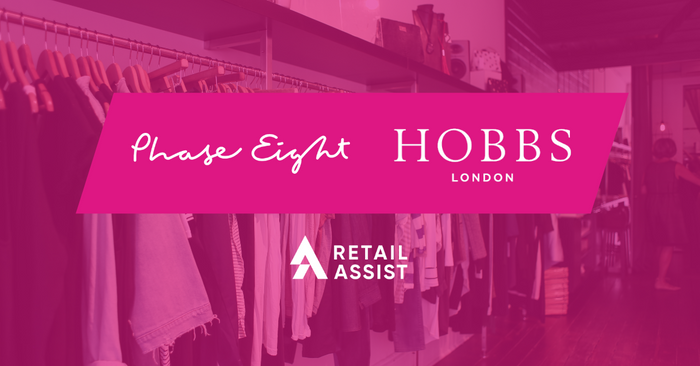 We are absolutely thrilled to welcome two new brands, Hobbs and Phase Eight, part of TFG Brands (London) Ltd. The two premium womenswear brands are now supported with our 1st Line Help Desk service, acting as a single point of contact for 266 stores across the UK.
Having supported Whistles since 2010, we were well positioned to roll out their support model to two more TFG brands.
Previously, Hobbs and Phase Eight received IT support from their internal shared IT services team. After extensive growth, the brands needed a partner who could deliver a focused Help Desk to manage all incidents from initial identification through to resolution.
They required an experienced team who could implement the solution swiftly, in order to minimise impact through peak trade. The solution is usually delivered in ten weeks, however the team got the service up and running just under five weeks, to make sure that Hobbs and Phase Eight stores had resilient support through the Christmas shopping period.
Alex Priscott, Chief Technology Officer at TFG commented: "Our long-standing relationship with Retail Assist means that they thoroughly understood our support needs, offering a seamless service transition. The biggest challenge was the compressed timeline, we needed the service to be live in time for the Christmas period to minimise disruption to the business at our busiest time. They managed to deliver the service in a tight 5 weeks, which was outstanding.
"Retail Assist have really become an extension of our own IT team. The capability of Retail Assist's 1st line team ensures that our own internal teams can focus on business as usual, whilst the customer experience is taken care of. We are reaping the benefits of using Retail Assist support services as a single point of contact."
After a successful peak trade period, we extended the service to another 176 Hobbs and Phase Eight concessions and will be extending the Whistles service with 55 concessions, across the UK.
Kevin Greathead, Managing Director at Retail Assist remarked: "We're thrilled to further expand our relationship with TFG; helping to support Hobbs and Phase Eight, two excellent high-end brands with a reputation for luxury. We look forward to underpinning their IT support as they continue to grow."