16 Mar 2023
Integrating Ivanti Wavelink's Velocity with Zebra Autonomous Mobile Robots Frees Workers to Focus on High-Value Tasks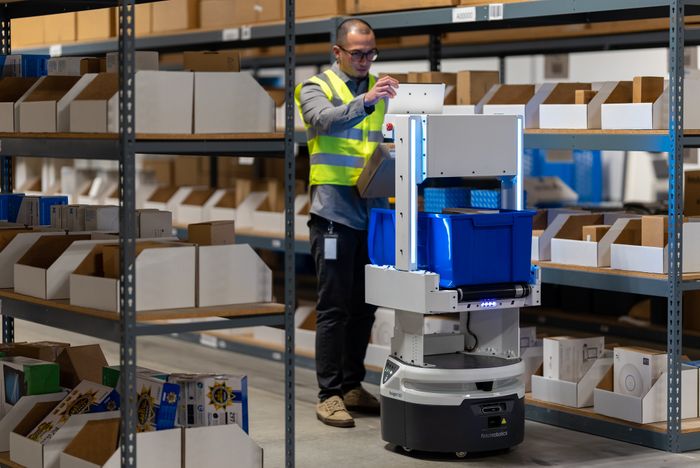 Integrating Ivanti Wavelink's Velocity with Zebra Autonomous Mobile Robots Frees Workers to Focus on High-Value Tasks
SALT LAKE CITY — March 16, 2023 —
Ivanti Wavelink, the supply chain business unit of Ivanti, and Zebra Technologies Corporation, an innovator at the front line of business with solutions and partners that deliver a performance edge, today announced it will integrate Ivanti Wavelink and Zebra autonomous mobile robots (AMRs) in warehouse and manufacturing facilities. The combined solution will increase productivity and throughput while freeing workers to focus on high-value tasks.
For customers who need to streamline complex workflows associated with material movement, the partnership accelerates the effectiveness of automation – integrating Ivanti Wavelink's Velocity platform for voice direction with Zebra's line of Fetch AMRs. Now, Zebra AMRs can be controlled via Velocity apps or voice-direction on Zebra rugged mobile devices, without requiring any modifications to host WMS, ERP or other enterprise systems, allowing for robots to easily be assimilated into existing workflows. With robots handling repetitive and heavy lifting tasks, manual material handling can be reduced by as much as 50 percent, increasing productivity, streamlining workflows and improving safety.
"Our customers recognize that automation is key to the future of their operations and are ready to make investments in strategies and solutions that can get them where they need to be quickly," said Jim Lawton, General Manager and Vice President, Robotics Automation, Zebra Technologies. "Integrating Ivanti Wavelink's Velocity platform with our Fetch AMRs brings the kind of sophistication customers are looking for – in this case, integrating voice commands with AMRs, so work gets done quickly, correctly and without friction."
Through the Velocity platform, Zebra AMRs are directed to complete steps in workflows, yielding a particularly high value in tasks where material movement and transport are needed. Additionally, through insights from Ivanti Neurons for IIoT, customers get visibility into the status of AMRs, so they know what task each robot is working on and any delays or disruptions they encounter.
"This partnership is another example of how our 'hands off the host app' approach that is a core tenet of the Ivanti Wavelink's Velocity platform can aid in increasing productivity, accuracy, and safety. Because Velocity interfaces with existing enterprise applications without the need to migrate or modify the host application, there is minimal implementation time," said Brandon Black, Senior Vice President and General Manager for Ivanti Wavelink. "Velocity unifies interaction among robots, mobile devices, and software on a single, expandible platform that can grow with any size business. This allows organizations to increase the bottom line via operational efficiency."