15 Dec 2022
How Maze is helping Specsavers see, hear – and smile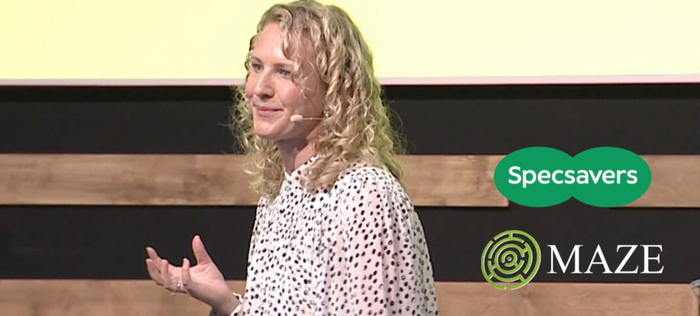 How Maze is helping Specsavers see, hear – and smile
Store staff are the face of your brand. They are the physical embodiment of your experience. Maze empowers staff to improve by providing staff with personalised feedback, alongside AI powered training, on a daily basis. This real-time feedback loop creates positive new behaviours, personalised to each employee and each store, allowing retailers to perfect their in-store customer experience.
At Retail Week 2022, we had the privilege of opening the first session on the main stage. Joined by Carina Hummel, General Manager for Audiology for Specsavers, we explored how the brand supercharged in-store colleague engagement whilst providing the best experience to its customers through Maze's technology.
Here's what was said.
Entering a new era for in-store
Carina spoke of Specsavers ambition to change lives through better sight and better hearing. "But to do that effectively, we need to know how customers feel about us and their experience."
Specsavers wants to help its customers. And so do the colleagues who work there. Through Maze Feedback, the retailer was able to transform these ambitions into a measurable reality. Since implementing Maze's solution in 2011, Specsavers has made proactive improvements to its customer journey. And what started as a small experiment with the customer glasses journey, has evolved into a business-wide practice.
Colleagues want to do a good job. But in a physical store, there are so many data points that it is impossible for any person to specifically understand where the opportunities for improvement lie. Maze takes feedback from customers, and then delivers tailored training to individual staff and stores through its AI-powered app.
Maze data revealed what stores were doing well and why – as well as highlighting customer pain points. "The more we know about our customers, the better experiences we can provide," Carina noted. "Now we capture over 70,000 pieces of customer feedback globally every week – and well over a million bits of feedback per year. This keeps our finger on the pulse of what our customers need from us".