23 Jan 2023
Partoo publishes its barometer of customer reviews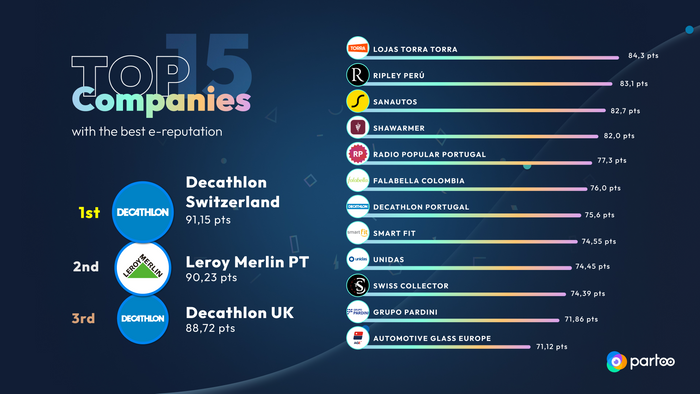 Carried out among the 72 504 points of sale of 458 clients, by analysing more than 2,9 million Google reviews.
As it does every year, Partoo has published its barometer of reviews posted on Google in 2022. This edition is even richer and more detailed than the previous ones thanks to the addition of new data.
Carried out among the 72 504 points of sale of 458 clients, by analysing more than 2,9 million Google reviews, it aims to :
Determine which companies have the best e-reputation

Rank the best brands by sector according to several criteria (average score, number of reviews per outlet, semantic analysis of reviews, SEO optimisation, etc.)

Take stock of the online reputation, habits, and consumption trends of Internet users
This barometer is based on one observation: online reviews have never been more strategic. They weigh in our daily decisions as much as they influence the brand image and referencing of companies. More than 70% of Internet users rely on reviews before going to the shop.
This is why Partoo wanted to reward the companies that best manage their online e-reputation. All the data analysed is exclusive and collected from our clients who use the Review Management solution.
E-reputation: the ranking podium
The ranking is based on several criteria with a specific weighting: the national average score, the number of reviews per establishment, the response rate to textual reviews, the response time, and the diversity of responses.
In our international market, Decathlon Switzerland (91.15 points) is the company that best manages its e-reputation. Leroy Merlin Portugal (90.23 points) is in second place, just ahead of Decathlon UK (88.72 points). These brands are at the forefront of online reputation and have mastered all aspects of it.
Automotive Glass Experts and Swiss Collector have also entered the ranking, a sign of the considerable progress made in 2022.
Having a good rating is an undeniable competitive advantage. It is a very important criterion of choice for consumers.
In our international market, the average rating of the companies analysed is 4.11/5, an increase of 12% in 1 year.
Sectors with the most reviews
Hotels and restaurants (243 reviews per outlet) are at the top of the ranking, ahead of specialised stores (209 reviews) and clothing retail (167 reviews).
McDonald's in Portugal (305 reviews per outlet), Falabella (852), and Decathlon (446) are the companies that received the most.
The importance of the response time
Receiving a lot of reviews is good. But you also need to take the time to respond quickly to boost customer satisfaction.
In this respect, the services, healthcare, and retail sectors are the most prominent. They process the vast majority of their reviews very quickly.
Semantic analysis
What scores do companies receive when the keywords "price", "experience", "service", and "stores" are mentioned in customer reviews?
For "service" for example, Kia receives 4.93/5 each time this keyword is mentioned.