05 Oct 2022
Red Ant delivers luxury retail experience for brands in the Middle East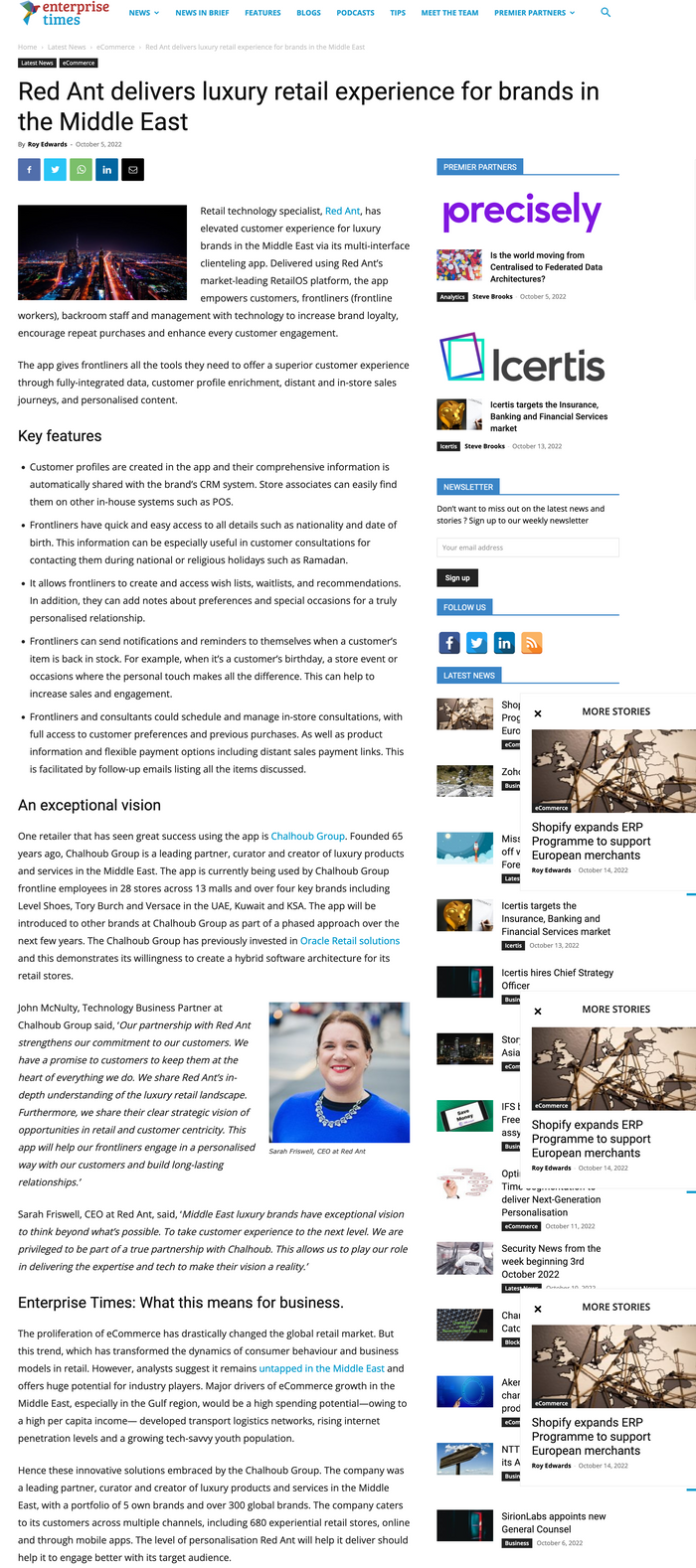 Red Ant delivers luxury retail experience for brands in the Middle East
The app gives frontliners all the tools they need to offer a superior customer experience through fully-integrated data, customer profile enrichment, distant and in-store sales journeys, and personalised content.
Key features
Customer profiles are created in the app and their comprehensive information is automatically shared with the brand's CRM system. Store associates can easily find them on other in-house systems such as POS.
Frontliners have quick and easy access to all details such as nationality and date of birth. This information can be especially useful in customer consultations for contacting them during national or religious holidays such as Ramadan.
It allows frontliners to create and access wish lists, waitlists, and recommendations. In addition, they can add notes about preferences and special occasions for a truly personalised relationship.
Frontliners can send notifications and reminders to themselves when a customer's item is back in stock. For example, when it's a customer's birthday, a store event or occasions where the personal touch makes all the difference. This can help to increase sales and engagement.
Frontliners and consultants could schedule and manage in-store consultations, with full access to customer preferences and previous purchases. As well as product information and flexible payment options including distant sales payment links. This is facilitated by follow-up emails listing all the items discussed.
One retailer that has seen great success using the app is Chalhoub Group. Founded 65 years ago, Chalhoub Group is a leading partner, curator and creator of luxury products and services in the Middle East. The app is currently being used by Chalhoub Group frontline employees in 28 stores across 13 malls and over four key brands including Level Shoes, Tory Burch and Versace in the UAE, Kuwait and KSA. The app will be introduced to other brands at Chalhoub Group as part of a phased approach over the next few years. The Chalhoub Group has previously invested in Oracle Retail solutions and this demonstrates its willingness to create a hybrid software architecture for its retail stores.
Sarah Friswell, CEO at Red Ant
John McNulty, Technology Business Partner at Chalhoub Group said, 'Our partnership with Red Ant strengthens our commitment to our customers. We have a promise to customers to keep them at the heart of everything we do. We share Red Ant's in-depth understanding of the luxury retail landscape. Furthermore, we share their clear strategic vision of opportunities in retail and customer centricity. This app will help our frontliners engage in a personalised way with our customers and build long-lasting relationships.'
Sarah Friswell, CEO at Red Ant, said, 'Middle East luxury brands have exceptional vision to think beyond what's possible. To take customer experience to the next level. We are privileged to be part of a true partnership with Chalhoub. This allows us to play our role in delivering the expertise and tech to make their vision a reality.'