14 Oct 2021
Sportswear retail, but not as you know it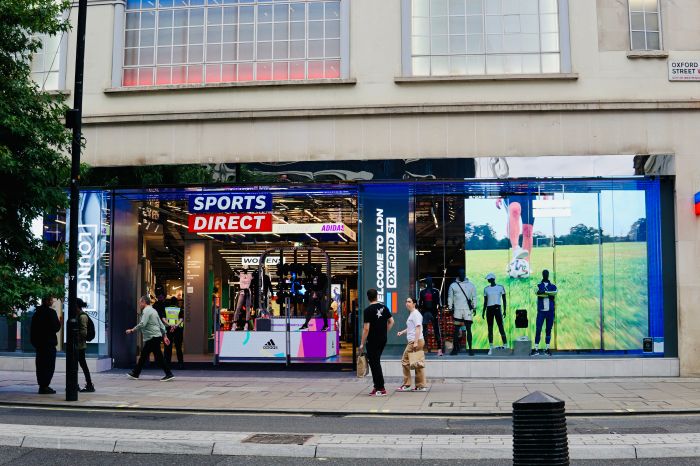 Intelligent data-driven technology is transforming the customer experience, providing a stage for brand takeovers and delivering valuable insight to leading sportswear retailer, Sports Direct at its newly revamped and reopened Oxford Street store. Lindsey Reynolds reports.
Sport Direct's Oxford Street flagship store reopened in July with a £10 million makeover designed to transform it into a retail destination par excellence – one that group head of elevation, Michael Murray calls a "globally-recognised retail destination filled with digitally immersive technology".
That's no easy task in Europe's busiest shopping street, where a myriad of top retailers compete to woo the 200 million a year visitors attracted to what writer Virginia Woolf called "the great rolling ribbon" of Oxford Street where "everything glitters and twinkles", luring them in through their doors with the best and most innovative their design and tech teams can conjure.
The magicians charged with delivering Murray's vision on Oxford Street are all existing, trusted partners – Inurface Media, its sister business and specialist in experiential technology, We Are Interact (now merged with Xi) and creative agencies, The One Off and Brinkworth Designs.
It has been a task Inurface Media CEO Josh Bunce says demanded they "push the limits and experiment" to transform the flagship into a space that wows both customers and the brands that are the lifeblood for the sportswear retailer.
Capturing footfall
The windows and entrance are key real estate for any retailer and Sports Direct has certainly gone big, filling window spaces flanking the doorway with giant LED displays in the form of rotating LED pillars and an LED plinth positioned at the customer entrance customers enter.
The eight LED pillars were created with 2.9mm high brightness (2,500 nits) LED modules from Bauer Digital to ensure vivid colour punches through even the brightest, direct sunlight, and are able to serve as two large LED screens or as eight individual rotating LED pillars that rotate in one fluid motion to display animations symmetrical on both sides.
Customer wow
Customers are further wowed by an LED plinth created with 1.9mm Bauer Digital LED, another eye-catcher, which together with the windows, not only draw customers into the store, but also enables brand takeovers for high-profile promotional campaigns.
"Brands can take over the window and the plinth and make them their own," says Bunce, and the ability to "let the brands speak" extends throughout the store.
Delivering for their brands is fundamental to Sports Direct, whose stores function akin to a next-gen department store. Brands have their own areas within the store while the store owner provides the ability to impact and engage customers with its content throughout the retail space.
To achieve this, the store is packed with AV. Lovers of stats will enjoy learning it has the most LED to date in one retail location and its digital displays, together total up to more than 100 million pixels.
Lightboxes have been banished in the digital transformation of the 50,000 square feet of retail spaces spread over four floors. You will find displays everywhere from videowalls to portrait pillar displays, to till screens and tickers to small touch screens that serve as alternatives to store assistants.
Experiential
There is nothing passive about this digital signage network. The AV technology, content and analytics work together to be experiential for the customer, valuable for brands and incisive for the Fraser Group and its partners delivering insight into customer behaviour and demographics.
The store includes lift and learn technology to trigger the display of relevant content when a customer picks up a product, such as a trainer, and a number of features that create opportunities for customers to engage with brands and harness the power of social media and user generated content.
User generated content is king: customers discover how high they can jump, compete with others on the leadboard and get videos of their jump to share with friends on social media.
One of these UGC-focused features is the Jump Booth, which has generated more than 10,000 pieces of content since the store reopened, also attracting the pure-publicity gold of the attention of celebrities, including Romeo Beckham. The booth invites customers to see how high they can jump. Facial recognition identifies the customer's head and shoulder height to calculate how high they jump. A high-quality camera captures their jump for playback, while a scan of a QR code saves the video to their phone to share on their social media accounts. They can also enter their initials to submit their jump height to the leaderboard.
User information is captured with each piece of content thanks to the platform's ability to passively monitor gender and mood enabling Nike to analyse the data, tracking whether specific promotions in and out of store drive different demographics to the experience. The experience can also be adjusted if the user journey does not appeal to all demographics.
Experiences for all ages and interest
The Oxford Street store also deploys an interactive feature harnessing AR technology that has proven successful in other Sports Direct stores. Snap Mask Selfie enables a user to snap a selfie in their team kit and with their chosen overlay mask, then send it to their phones to share on their social media. A 4K camera positioned sufficiently low to enable younger children to participate, captures selfies with snap mask overlays that customers can share on their social media.
Since the store opened in July, the Snap Mask feature has generated over 1,100 pieces of user content in its first 56 days, with an average of 20 uses daily, 125 weekly and 500 per month. The football shirt and unicorn mask have proved the most popular in Oxford Street with approaching 400 uses.
A 4K camera captures the user with their choice of Snapchat-style overlay mask and displays the image on a 55in 4K touch display from Philips via the 11th Gen i7 media player, along with a QR code to send the image direct to users' mobiles to share on social with a PIN.
Built-in analytics track which masks are most popular with different ages and genders and make changes according to the feedback. Sports Direct owner the Fraser Group is able to compare the data with other of its stores to gauge what else would appeal in the Oxford store in terms of merchandising.
Oxford Street also brings the online experience in-store in the form of the bra-fitting zone. Customers can use Sports Direct's existing online bra-fitting tool on tablets and be linked to all the available products, in-store or online.
To date a dozen analytic cameras, largely in the interactive areas, undertake heat mapping or facial tracking to determine gender split, age, mood and level of attention. The entire network sits on an underframe of technology which ensures the smooth, and intelligent, running of the operation and enables a sophisticated level of control and versatility.
Sports Direct brought its online technology into the store environment in the Bra-Fit Zone, with tablets that also link users to products available both in-store and online
Knowledge is power
Visuals can be instantaneously changed based on reactions from the viewer, and the Sports Direct teams, both in-store and from head office, are able to act on the information gathered and edit accordingly to ensure visits are converted to sales.
This is not technology for technology's sake. It is technology working in harmony with content and analytics to engage and entertain but also inform. It tailors the customer experience to its point of consumption, and generates invaluable data that enables its offering and store layout to be continually enhanced and extended. It enables the monitoring and measurement of RoI.
It "transforms our store into a true experiential hub," says Murray "and reinforces our position as the leading destination for sportswear."
In addition, increasing its share of leading brands was critical to the Oxford Street revamp, says Bunce and its design caters to the needs of Sports Direct's 140-plus brands, making this hub of technology – AV, AR, AI and IT technology working hand-in-hand – an essential retail environment to be in and a leading brand takeover environment.
Lessons learned here will go on to benefit other Sports Direct stores, Bunce adds with further flagships planned for Birmingham and Manchester planned for 2022.