Sustainable Interior Design Solutions - Decorating in the heart of Ireland with Rose Petals - Organoid Natural Surfaces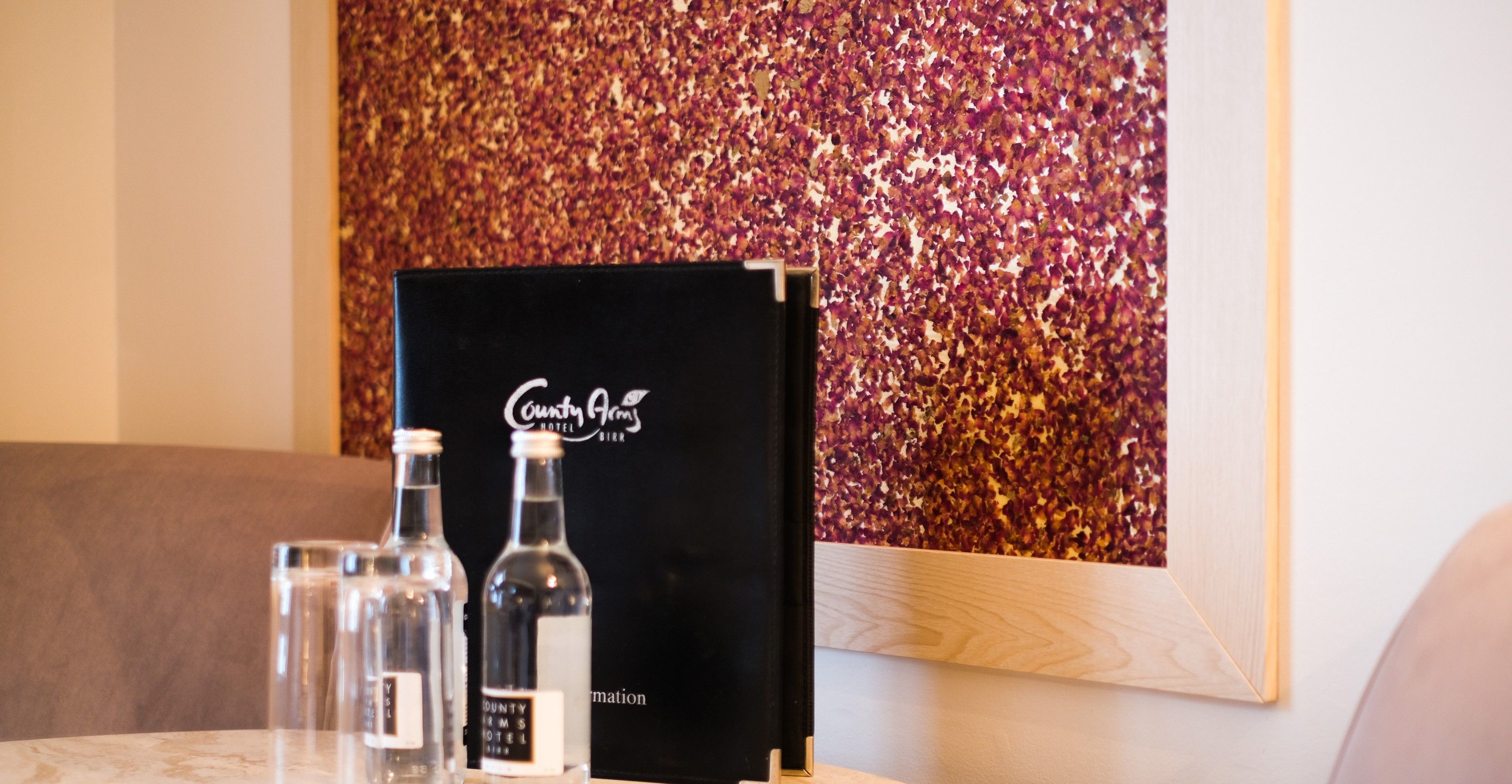 Hotels are transforming their accommodation rooms to make them the highlight of every guest's experience. Rooms are becoming more personalized, biophilic design materials and sensory ideas are bringing nature inside, and greener features are being welcomed to improve sustainability. Interior design trends are reducing repetitive patterns and embracing textures and colors that create a soothing, nature-inspired ambiance.
In the heart of Ireland, the County Arms Hotel has been creating special memories for tourists, wedding parties, families, and business guests for 60 years. To maintain the highest standards, the hotel's most recent renovations explored new materials to design a purer, gentler, and more unique atmosphere.
Avery Dennison® Organoid Natural Surfaces Rose Petals were chosen to be applied on the wall of the accommodation. Organoid Natural Surfaces bring tremendous design flexibility for interior applications and appeal to almost all the senses. Guests can see, touch, and smell the design, interact with the room, and connect with nature during their stay.
"Our interior design team recommended Organoid Natural Surfaces for the walls … our guests love the floral surface covering, and keep asking us about the product!" - Eoin Garry, Owner of County Arms Hotel
Our new Avery Dennison® Organoid Natural Surfaces range
Organoid Natural Surfaces are made of organic raw materials, such as rose petals, moss, and alpine hay which are sourced regionally where possible. The philosophy is to avoid further processing via conventional production, relying instead on regional partners and short transport routes. Organoid Natural Surfaces provide a one-of-a-kind experience by bringing the outside in and engaging almost all of your senses.
"Organoid Natural Surfaces allow customers to make every space an opportunity by integrating nature into their interiors. The range was developed as a result of our EcoDesign methodology, demonstrating that we can create aesthetically exciting and beautiful solutions that are also helping to reduce our environmental impact. We were seeking to develop more sustainable interior architectural solutions that would be based on renewable materials and would provide a new and more unique design aesthetic compared to our more traditional graphics products." - Peter Viegener, Senior Product Manager Avery Dennison Graphics Solutions EMENA
Organoid Natural Surfaces, a solution for more sustainable interior design.
"The use of more sustainable materials for interior spaces is becoming increasingly essential and, thanks to the advice from our designer and distributor Material Solutions/Interie, Organoid Natural Surfaces was selected". - Eoin Garry, Owner of County Arms Hotel
The goal of sustainable interior design is to minimize "negative impacts on the environment as well as the health and comfort of people" (Source: GSA). Choosing more sustainable product solutions for interior spaces reduces both the emissions of harmful compounds inside the living spaces and our environmental footprint. Products like Organoid Natural Surfaces, which are made from renewable materials, are good examples of such sustainable solutions.
Renewable materials are based on alternative sources to petroleum-based products. Renewable materials are natural resources composed of biomass, whose supply is almost unlimited and can be restored in a short period of time (Source: WHIT).
Available in seven different materials - from alpine hay to dark moss, and from rubber tree leaves to rose petals - Organoid Natural Surfaces offer an authentic way to decorate interior windows and walls. For more information about Organoid Natural Surfaces, you can visit the product page on our website here: https://graphics.averydennison.eu/Organoid
Organoid Natural Surfaces belongs to our new Avery Dennison Sustainable Graphics Solutions Portfolio, which aims to give our customers access to the new generation of more sustainable products. Each product in the portfolio qualifies by meeting one or more of our defined criteria. For more information about Avery Dennison's commitment to sustainability, please visit our website.