The new era of modular RFID fixed readers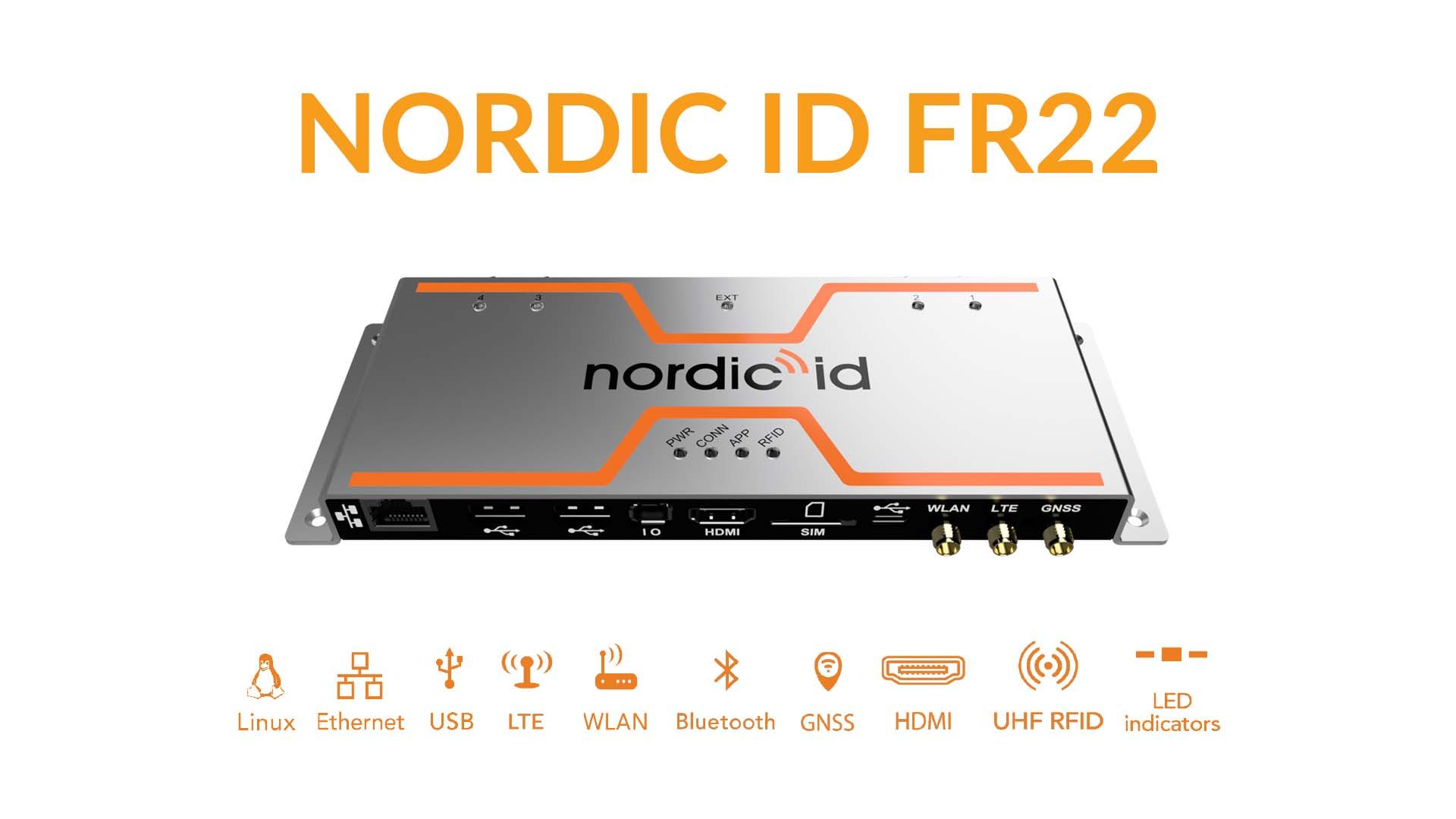 Come test the FR22 in action at stand 6B81!
THE NORDIC ID FR22 IS HERE. WHAT IS IT, AND WHY DID WE CREATE IT? LET'S FIND OUT.
The development of the Nordic ID FR22 started with an idea to bring a new generation fixed reader for our customers and to RFID and IoT industry. Our powerful UHF RFID fixed readers, AR series, needed a facelift which prompted our development of a new innovative modular UHF RFID reader. We aimed to improve fixed RFID readers in every aspect. That's how the FR22 was invented.
The Nordic ID FR22 is the evolution towards a smarter platform, more powerful, scalable, flexible, and manageable than ever. The Nordic ID FR22 is the core device of a new approach for RFID fixed systems with versatile communication options and a modular design.
THE NORDIC ID FR22 OFFERS:
Wide connection options
A new level of scalability
Optimal UHF RFID performance and power usage
More manageable RFID setup and lightweight design
"The FR22 aims to solve all the challenges that customers have found in the past when deploying an RFID solution: size and weight that allows to install the FR22 almost everywhere, wide connectivity to avoid adding external devices, flexibility to expand the reader, fully manageable with its own web interface to facilitate installing and updating applications etc. And of course, as an RFID reader, its performance is the highest we have ever achieved, high-end level in the industry." – Lluis Bueno, Customer Success Manager at Nordic ID
---
CONNECTIVITY AND SCALABILITY AT THE NEW LEVEL
The FR22 is a vital building block for various track & trace and intelligent manufacturing solutions. We have improved many aspects compared to our previous model, AR series: connectivity, modularity, RFID performance, setup, and design. The FR22 offers functionalities that enable it to be part of various solutions setting it apart from its competitors.
CONNECTIVITY LIKE NO OTHER
The FR22 offers extensive connectivity facilitating multiple use cases without additional external devices. Wide connectivity options, including Bluetooth, HDMI output, 4G, Wi-Fi, USB, and Ethernet, enable flexibility in system design. For example, you can connect the device to a handheld reader, smart device, or sensors via Bluetooth or connect it to a screen using HDMI. With customized software, the FR22 can even be connected to label printers. We have improved Wi-Fi to enhance the security of the connection.
A NEW LEVEL OF SCALABILITY
The FR22's scalability enables different use cases for different segments depending on which modules are attached to it. Plug and play accessories allow various use cases or applications and make it possible to modify system design without changing the whole setup.
A variety of combinations can be created with the FR22 and the accessories. Nordic ID FR22 can be seamlessly connected and mounted on the back of the overhead Nordic ID BFA antenna that provides reliable object detection and environment mapping. The FR22 with GA30 antenna is an optimal combination for manufacturing environments, logistics, or outdoor RFID solutions. Combining the FR22 with MUX16, the FR22 can act as a single reader for 16 antennas.
OPTIMAL RFID PERFORMANCE AND POWER USAGE
The FR22 is a high-performance UHF RFID reader with more sensitivity, longer reading range, and increased processor power. Compared to Nordic ID's previous fixed reader models, AR series readers, the FR22's reading range has increased 30%, and maximum sensitivity has increased 400%.
MORE MANAGEABLE RFID SETUP AND LIGHTWEIGHT DESIGN
The FR22 can meet demanding customer requirements with reduced complexity. The new platform with edge computing capabilities simplifies complexity, reduces cost, and increases reliability in your RFID setup. Combining FR22 with a touchscreen, you can quickly build a user identification system or manual checkout at a doorway or entrance. The touchscreen connects to the reader via HDMI, and the software application runs on the reader itself. This solution eliminates the need for continuous cloud connection and expensive host computer running on site. The device can be powered using Ethernet cable, and a separate power supply is not needed. The FR22's lightweight design allows the device to be mounted even without brackets. Due to its small size, the reader can be packed more tightly and transported more cost efficiently than its heavy competitors.
---
MAKE IT HAPPEN WITH THE FR22
The FR22 is a truly game-changing device in RFID and IoT industry. We are bringing the missing pieces for the solutions that have been previously impossible to implement. A variety of use cases is possible with the FR22, including area monitoring, RFID gate solutions, fitting rooms, movement detection, identification systems, and manual checkouts.
The Nordic ID FR22 is a vital building block for various track & trace and intelligent manufacturing solutions. Contact our sales to learn more about our newest UHF RFID fixed reader.
Come test the FR22 in action at stand 6B81!