11 Jan 2023
Toshiba Wins 2023 BIG Innovation Award Presented by the Business Intelligence Group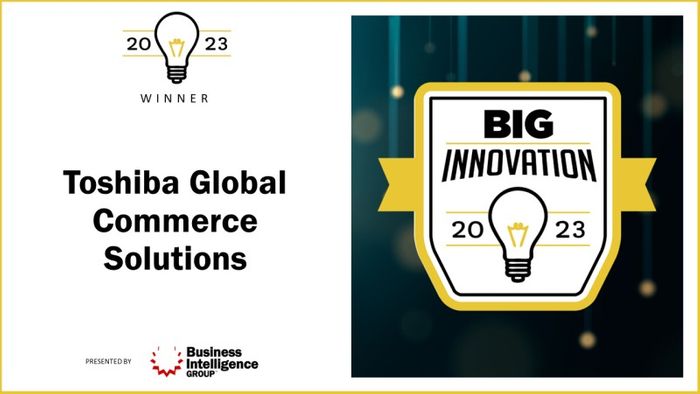 Toshiba Global Commerce Solutions, market share leader in retail store front-end technology, announced that it has been named a winner in the 2023 BIG Innovation Awards presented by the Business Intelligence Group.
Toshiba has doubled its commitment to delivering world-class self-service solutions. Most notably, the next-generation ELERA™ unified commerce platform accelerates digital transformation, supporting the connected store experience in an agile, interconnected, and infinitely adaptable way. ELERA addresses the major pain points of retailers today:
Self-enablement: Retailers can build and deploy new features themselves, saving money and gaining control
Modularity: Retailers can drive their own custom implementation roadmap and new plug-and-play solutions when desired
Infrastructure Independence: ELERA can run on any company's hardware, cloud, or operating system - no need to rip-and-replace
Speed of innovation: A modern, common tech stack across the entire store simplifies system upgrades
More smart solutions: A combination of computer vision, artificial intelligence, and machine learning ensures that store data is captured and turned into insights that improve the shopping experience
"We're honored to receive the 2023 BIG Innovation Award," says Fredrik Carlegren, VP of Marketing & Communications, Toshiba Global Commerce Solutions. "For too long, legacy technology has not afforded retailers the agility to evolve with the ever-changing needs of consumers. We are devoted to freeing retailers to reimagine, build, and evolve their infrastructure with technology that empowers change."
Toshiba's ELERA solution enables retailers to meet consumers' preferences by supporting a buy anywhere, pick up anywhere shopping model. The company's innovative solution seamlessly integrates with other technologies, leading to recognition by a key industry analyst when named a Leader in the IDC MarketScape: "Worldwide Point-of-Sale Software Vendors in Grocery and Food Store Retail 2022 Vendor Assessment (doc #US46743220, May 2022)."
Organizations from across the globe submitted their recent innovations for consideration in the BIG Innovation Awards. Nominations were then judged by a select group of business leaders and executives who volunteer their time and expertise to score submissions.
About Business Intelligence Group
The Business Intelligence Group was founded with the mission of recognizing true talent and superior performance in the business world. Unlike other industry award programs, these programs are judged by business executives having experience and knowledge. The organization's proprietary and unique scoring system selectively measures performance across multiple business domains and then rewards those companies whose achievements stand above those of their peers.
About Toshiba Global Commerce Solutions
Toshiba Global Commerce Solutions is a global market share leader in retail store technology and retail's first choice for unified commerce solutions. Together with a global team of dedicated business partners, we advance the future of retail with innovative commerce solutions that enhance customer engagement, transform the in-store experience, and accelerate digital transformation. To learn more, visit commerce.toshiba.com and engage with us on Twitter, LinkedIn, Facebook, Instagram, and YouTube.