20 Mar 2023
Weblib to exhibit at Retail Technology Show 2023 in London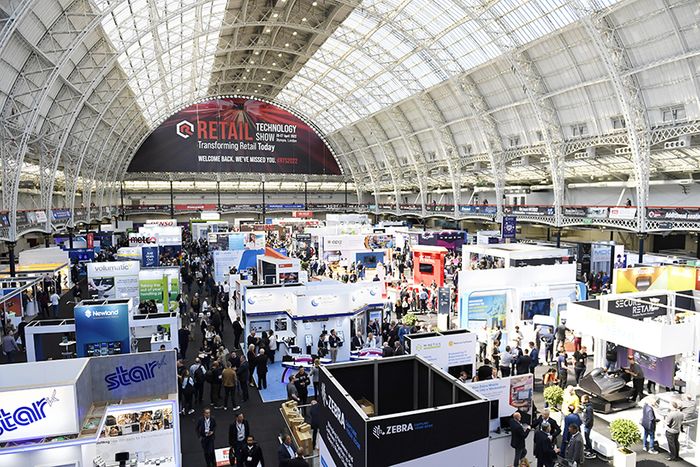 20 March, 2023 – Paris, France – Weblib, a technology company and software editor that provides in-store digital solutions to the retail industry, has announced it will be exhibiting at Retail Technology Show 2023, the flagship event for retail.
Retail Technology Show is the event that brings together Europe's most forward-thinking retailers and leading tech innovators, where retailers can advance their digital transformation strategies and empower their businesses to thrive, survive and disrupt, powered by technological advancements and innovation.
Taking place at London's Olympia on 26-27 April 2023, Retail Technology Show's mission is to drive the industry through innovation, by bringing together the brightest minds in retail and future-forward technology providers.
Supported by their UK Distributor, Open Reality, Weblib will be showcasing their guest access, mobile device management, and ordering and payment solutions on stand 5G35.
The Weblib product line-up includes:
Ucopia – Guest Access solution
On-premises guest access and Wi-Fi marketing solutions with licensing per user. Compliant with the highest security standards in the industry, the ultimate high-density Wi-Fi solution.
Smart Wifi – Guest Access
Cloud-based solution with the state-of-the-art captive portal for customers and employees.
Tab inStore – MDM, communication, PoS management and entertainment solution
Remotely manage the tablets in your corporate or retail environment. Control the content and settings, take advantage of over-the-air updates and push new content to all or selected tablets instantly (application, wallpaper, standby time, Wi-Fi networks, brightness etc.)
Digitalize business processes to increase productivity in restaurants. Connect securely to sensors and other connected objects in the kitchen, the Tab inStore solution can become an essential element of the restaurant safety and hygiene process (HACCP).
Smilein – WLAN ordering and payment option
The easiest way to order food – without an app. Customers use their mobile device to browse your menu, place an order, and make secure payment.
Weblib's products are managed and delivered through a central management platform called Control Tower. This provides one place for analysis, engagement, and monetisation opportunities.
Download all the data collected or export to your CRM solution.
Track Wi-Fi usage and connections.
The all-in-one dashboard for content management, monitoring and analytics of your mobile fleet.
Dean Jones, Regional Director, UK and Ireland, at Weblib commented: "Weblib and its UKI distribution partner, Open Reality, are delighted to exhibit at the Retail Technology Show. We've been working hand-in-hand with retail leaders since 2009 to create outstanding shopping experiences and deliver store performance through digital innovation. Our solutions are highly customisable but cost effective and ensure retailers can better engage with and offer services to their customers in both the physical and digital world."
-ENDS-
For further press information about Weblib, please contact Marion Izard: marion.izard@weblib.eu.
For further information about the Retail Technology Show, the event that is transforming retail today, please contact Sarah Cole: sarah.cole@fieldworksmarketing.co.uk.
About Weblib
Weblib, an expert in Wi-Fi and Point of Sale digitalization solutions, offers a complete range of solutions for the digitalization of public places: Ucopia, Smart Wifi, Tab inStore, Smart Kiosk and smilein. With a presence in 80 countries and 10,000 locations, Weblib supports leaders such as McDonald's, Uniqlo, and Total.
www.weblib.com
About Open Reality
Founded in 1999, Open Reality is a privately owned company with a dedicated distribution team that really understands our vendors' products, and how they work. This means we can work hand-in-hand with our channel partners to provide first-class customer service and support to them and their customers.
Our channel programme combined with our expertise and hard work supports our reseller partners in expanding their business, and growing revenue. That's why we strive to recruit, on-board, enable, and create demand for our channel partners to create a win/win scenario.
www.openreality.co.uk
About Retail Technology Show
Launched in April 2021, the Retail Technology Show is brought to you by the experienced team who previously organised the UKs largest retail exhibition: RetailEXPO (formerly RBTE).
For ten years we've been showing how to evolve ahead of the market, building a community of retailers, brands and hospitality providers with the courage to seize the opportunities ahead.
This event is unlike other expos. Here you can see, feel, hear and touch the future of retail. Be the first to see the ideas as they land. You can try out the tech and meet the people who make it happen. Not on a computer screen but face-to-face. The business interaction we have all missed.
Our conference programme has always been known for bringing together the industry's leaders and most influential voices. This year will be no exception. This will be the place to gain first-hand insight to shape your growth plans ahead.