Attensi PORTAL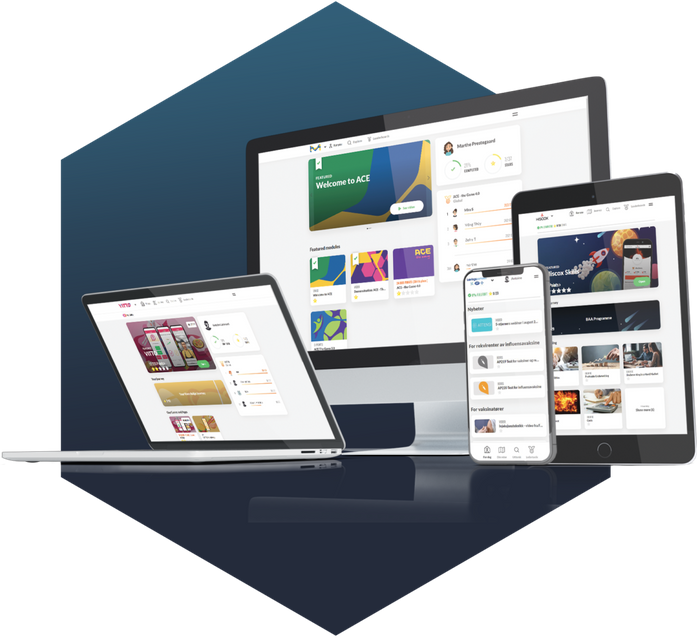 A customisable, flexible learning hub
Make your learning and development platform the place to be.
Show your commitment to your teams' training by adding your distinctive brand assets to your Attensi PORTAL. Let your team know that quality training is something that's here to stay.
Not only will that motivate your existing employees, but it's also a great start for any new recruits in the future.
Celebrate the individuals in your team by designing specific journeys (depending on their role) within each team member's PORTAL to support their unique learning goals.
For example, you may choose one journey for your sales team and another for your managers. Each group will receive tailored content designed to help them improve their role specific skills.
Built for you
Everyone's PORTAL will look different. Your virtual world will be designed specifically for your organisation.
You'll find everything you need within your PORTAL, including content modules, leaderboards and events on your very own 'for you' page.
Play anywhere, anytime
Our bite-size gamified learning tools are compatible with both desktop and mobile.
You won't need to sacrifice your teams' busy schedules with lengthy lessons.
Access your modules at the most convenient time for you.
Upload your existing resource library
Attensi PORTAL supports all the major file types – meaning you can enrich your learning library with your existing training materials alongside your Attensi gamified simulations.
Supported training materials include: videos, apps, documents, Tin Can URLs, SCORM and AICC.
All your Attensi platforms in one place
Create a seamless learning experience. Your Attensi SKILLS, PROCESS and BEHAVIOUR integrate smoothly with your PORTAL. With no installations required, it couldn't be simpler to access the multimedia content of your Attensi simulations.
Engagement through gamification
We've used the principles of behavioural psychology and to design mini-games that are motivating and repeatable. This repetition is the key factor in retaining information in the long term.
Watch as your teams start to earn points. As we all know, points win prizes. As they climb the leaderboard, they'll complete their sessions as a master of that skill.
Learn on the go
Log into your Attensi PORTAL at any time, in any place on any device. Our gamified simulations can be accessed on mobile, PC, Mac and tablet.
Whether it's during break time, coffee time or the commute to work, your PORTAL can be accessed across your devices to make learning a seamless, simple experience for all.
Worried you'll lose your progress? All your results will be saved in your Attensi PORTAL and in the cloud-based Attensi PLATFORM. Simply pick up where you left off and jump straight back into the game.