UKG People Operations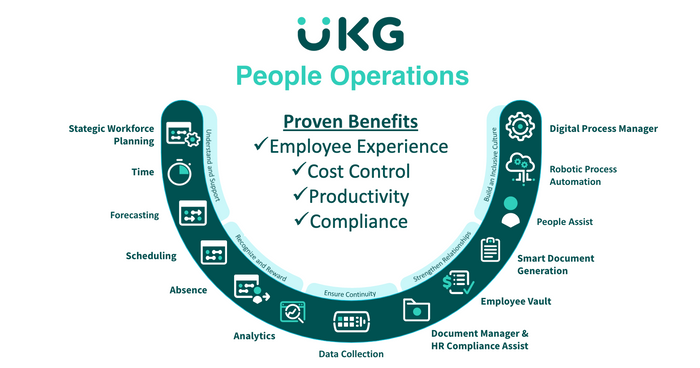 UKG People Operations creates a bridge between people and operations teams by providing a single point of access to the solutions used daily to drive cost control, productivity, compliance and employee experience. By giving your people on- demand access to workforce management, HR service delivery and HR tools your managers can more easily meet targets and your employees are empowered to take greater life-work control.
One solution to drive efficiency, productivity, compliance, and employee experience.
PEOPLE AND OPERATIONS MANAGERS
Easily create automated workflows that minimise manual tasks
Quickly find the right answers to questions with the mobile Knowledgebase
Build work schedules that align customer, business and employee needs
Spend less time managing and responding to employee requests
Receive proactive notifications to avoid compliance risks
EMPLOYEES
Empowered with on-demand access to knowledge and answers to HR questions
Mobile self-service functionality to: • View accruals balances

Book holidays
Request and swap-shifts
Record work preferences
View payslips
Access and update your HR documents and records
...and much more
Find out more here: https://www.ukg.co.uk/ukg-people-operations