03 Apr 2023
Workforce Management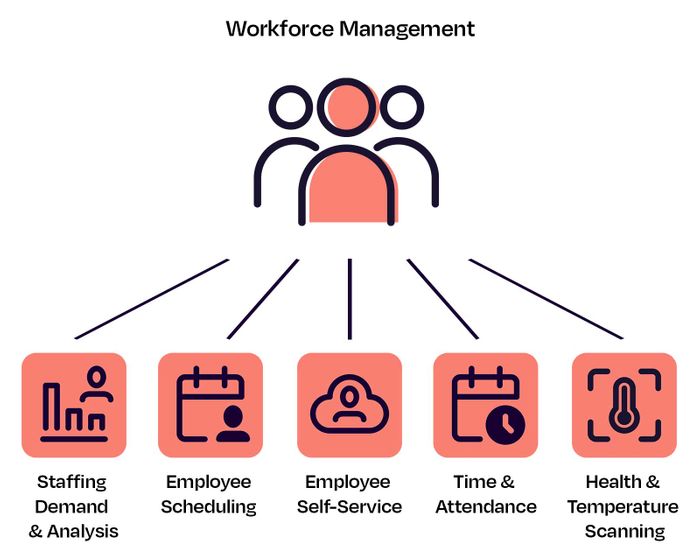 Staffing Demand & Analysis
Create and analyze accurate scheduling requirements based on your labor standards, volume forecast and labor costs.
Staff planning and analysis have never been so easy. Derive accurate staffing by 15-minute intervals—by labor task—to plan labor when you need it, considering true labor costs.
Your store-specific labor standards and volume forecast have generated your raw demand. Now it's time to translate that demand into staffing hours you can incorporate into the schedule and workplan. Staff Planning takes your raw labor demand and creates an accurate workload for people.
Get staffing by task in 15-minute increments
Transforming the weekly or daily work content into interval staffing requirements for scheduling involves more than just spreading the hours across department open and close times. We start with the forecast and move beyond open and close to include the various rules associated, the tasks and timing, and necessary task sequencing as part of the workplan. It all accumulates to enable task-based scheduling with labor requirements at the 15-minute interval.
Put the right hours in the right place at the right time
Changing raw demand into effective scheduling requirements means factoring in staffing parameters such as:
Additional business and service concerns (e.g., minimum/maximum coverage and queueing standards)
Placement of tasks by day and time of day
Interval demand calculation logic (e.g., rounding and smoothing)
Staffing Analyzer: Your toolbox for hour placement and staff modeling
Understand your cost of labor and service commitments with critical insights to manage staffing parameters and optimally place your labor hours. With Staffing Analyzer, your labor team can model the impact of service level changes and customize these changes by day and specific time of day for a single store or across your enterprise.
Precisely position tasks when you want them to occur. Staffing Analyzer allows you to see how your labor tasks, volume-driven variable hours, and staffing parameters like minimum hours coverage come together to formulate department scheduling requirements. Make refinements to your staffing to balance task work with other demand to make the most of your hours while minimizing wasted down time during portions of a day.
Key Benefits
Ability to transform raw labor demand into schedulable requirements
Supports placement of labor tasks including both fixed and variable (volume dependent) operations
Enables hours defined at a weekly or daily level to effectively be spread to daily intervals at the time of day work should be performed
Ability to define staffing parameters for all business rules not defined within labor standards such as min and max employees, rounding of decimal demand, rounding between tasks, rounding to next interval, accumulation rounding, queueing, smoothing and sustain logic, staffing allowances, special adjustments, and many more
Core component in achieving the right people at the right place and time, doing the right things
Improved productivity, service and staffing
Improved schedules and labor optimization
Analyze and execute simply and easily
Use Staffing Analyzer to create and model alternative staffing strategies. If you think smaller volume stores need a different staffing strategy than your higher volume stores, model each and manage them as clusters. Want to model alternative service strategies and determine the cost? Run that model across your entire organization to see how many hours the alternative would take.
Understand your interval requirements: Realize how staffing parameters are adding time to raw work demand.
Conduct what-if analysis scenarios: Model proposed changes and know the impact across your stores in just minutes.
Perform analysis with your historical or forecast data in minutes: Totals summarized and daily graphs display interval placement of requirements.
Get fast analysis and insights for new optimization: Accomplish what would have taken your analysts days to create, execute and summarize.
---
Employee Scheduling
Schedule the right store employees at the right time—to do the right things.
The industry leader. Schedule the right associate for the right labor task at the right time to provide the best service. "Wall-to-wall" cross-scheduling generates the most effective schedule by utilizing associates across departments. Automate scheduling to the 15-minute level with metrics-backed performance; no edits required.
Optimize your most important resource—your people—just by changing the way you schedule. Rising minimum wages, increased regulations and a tight labor market mean effective scheduling is more important than ever. And while producing a great schedule does require a great forecast, the scheduling system you use can mean the difference between just OK and game-changing performance.
Not all scheduling solutions are created equal. To deliver stellar customer service without over- or under-scheduling, you must be able to schedule at the task level and cross-schedule your people. You also need the right scheduling logic and measurement. Extra cutting-edge abilities like gig-style scheduling take you the extra mile if you so choose.
4 powerhouse catalysts to deliver the best schedules, period.
While everyone claims to schedule the right associates at the right time, Logile uniquely takes it a step further. Our customers agree the following unmatched capabilities have definitively changed their scheduling game with dramatic results.
Task-based scheduling. Schedule to actual tasks—not just job codes—for maximized efficiency and productivity.
Cross-department, wall-to-wall scheduling. Increase utilization by scheduling all your departments across the store using optimization.
Scheduling effectiveness measurement. Analyze all schedule versions—system-generated, edited, actual and earned—to prove performance and identify opportunities.
Schedule costing and scheduling to budget. Understand the true cost of a schedule. Schedule within budget constraints via automated hours realignment intelligence.
Gain a creative new solution to address labor challenges with Gig-Style Scheduling
Logile Gig-Style Scheduling uniquely adapts the successful ride-share gig and crowdsource model to work in the retail operational environment, helping retailers effectively manage staffing shortages while attracting and retaining workers. Leverage this ground-breaking mobile solution as a new strategic tool to supplement your labor pool to effectively cover staffing needs across your organization.
With Logile's solution, gig workers are employees of your company approved by you to bid on shifts outside the associates' primary store and departments. Crowdsource workers are not current company employees but are vetted and preapproved by you to bid on shifts for specific roles, departments and stores if managers open shifts to crowdsource status. Workers love it and your shifts get covered according to your rules and specifications: It's a win-win!
Fast-track your path to optimized, automated scheduling
Get industry-leading scheduling optimization that supports centralized or store-based scheduling and workflow. Our retail labor experts work with you to address your requirements and set up the rules and parameters specific to your company's needs. We quickly get you up and running—at all your locations—and keep you tracking to your directives.
Validate and trust automated, intelligent system-generated schedule writing to save time and prove results
Create accurate schedules further in advance
Avoid violations and drive compliance
Optimize lane assignment and queuing management
Manage in real time with mobile KPI dashboard alerts and analysis
Deliver self-service agility for shift swapping and bids, availability changes, communication and more
Prepare for predictive scheduling
If you've been hearing about predictive scheduling legislation and wondering if it will affect you, you're not alone. Logile can help. Unlike the alternatives, our advanced scheduling solution prepares you for compliance with predictive scheduling regulations—now and into the future.
Key benefits
Cost savings through optimized use of your labor resources
Top-line sales growth through better customer service and more satisfied associates
Minimized wasted hours
Less overtime
Departments run more streamlined and to plan
Visibility, tracking and scheduling down to the 15-minute interval
---
Employee Self-Service
Empower and engage employees with mobile self-service communications.
Happy associates deliver better customer service and boost retention. Motivate today's digitally driven workforce with the interactive, 24/7 mobile self-service they expect. Empower your workforce on the store floor, on the go and behind the scenes for increased satisfaction and operational efficiency.
Anytime, anywhere access and real-time notifications
Associates and managers can view, interact, request and manage:
Schedules
Availability
Time-off requests
Time and attendance data
Company news
Supervisor messages
Open shifts for bidding
Tasks
and more!
Empower your workforce with a secure, convenient mobile employee portal to interact in real time with supervisors and peers in areas like availability and scheduling.
Be the great place to work with the freedom of mobility
Delight employees with the agility of Logile Connect self-service, always available via any mobile device, computer or store kiosk. Store associates can easily review schedules, update scheduling preferences, submit time off requests, shift bid and swap, and receive messages. Engage them on other important human resource transactions, including personal performance information, job metrics, skills and certifications—so they always know where they stand.
Perform workforce management from the store floor
Managers get real-time visibility and can approve and communicate right in the portal for fast resolution and outreach. All Logile solutions are built for mobile interaction. And with Logile Lychee, the world's first 2-way WFM virtual assistant, managers benefit from instant, proactive execution guidance via Alexa integration on a growing range of AI-enabled functions.
Empower your managers to make the best decisions for your business with:
Full transparency into schedule interaction
Compliance with FLSA (predictive scheduling)
Ability to edit schedules and review and approve requests
Intelligent insight into potential business impacts before approval
Key Benefits
Creates optimized schedules in a systematic workflow you define
Minimizes overs and shorts to put the right people in the right place at the right time
Load-balances overs and shorts where they must occur to meet your rules
Utilizes employee qualifications, availability, preferred availability, and skill ratings to best match employees with the scheduling requirements
Supports scheduling of associates across departments and/or stores with appropriate permissions
Configurable for any work rules including seniority-based, optimized and predictive scheduling
Meets all regulatory requirements for scheduling of minors, management of break and lunch guidelines, and predictive scheduling requirements
Saves the system-generated schedule for analysis and comparison with the store-edited schedule
Scheduling Effectiveness dashboard rates the quality of both system-generated and store-edited schedule in understandable KPI metrics
Employees see the schedule only after it is published
Empowers and engages your workforce with mobile access to schedules and request management
Task-based scheduling provides direction to associates for the work intended
Saves managers time in managing requests, creating schedules and directing associates to task assignments
Increases organizational efficiency and agility
Provides greater visibility and options for associates to swap or relinquish shifts and to request new shifts that become available
Supports open and proactive associate engagement leading to lower turnover rates, increased sales and better customer service
---
Time & Attendance
Manage, track and process employee time and attendance with traditional or mobile clocks.
Get time tracking and employee information in real time across the organization to enhance your ability to dynamically manage your labor resources. Accounts for rules, governmental regulations and business-defined policies to ensure compliance and consistency.
An accurate, compliant time and attendance system is imperative. With our Time & Attendance solution, you can configure pay, attendance, access control, benefit and time-keeping rules, governmental regulations and your business-defined policies to ensure compliance and consistency.
Logile Time & Attendance enables your enterprise to automate the collection, calculation and reporting of accurate employee work transaction data. You'll streamline the entire pay process, improve productivity and reduce IT costs.
Dynamically process all time entries and edits in real time across your business
Open, multi-level, hierarchical organization structure supports organizations with multiple stores in multiple states.
Provides a rule-based engine and user-friendly workbench for adding, removing and updating time and attendance rules, so you can evaluate the impact when changes are made.
Centralizes management of complex rules, including vacation bidding, FLSA compliance, minor employee labor laws, federal, state and local labor laws, safety requirements, and multiple school calendars.
Supports multiple data collection technologies and integrates seamlessly with your existing timeclocks—and also with any internet-capable device, including VoIP enabled telephones—for flexible time entry options.
Flexible rules calculation engine
Labor distribution, location and job transfer capabilities
Accurate schedule costing
Manages by exception through Crew Sheet and Dashboard modules
Supports unlimited number of pay rules, earning codes and labor levels
Streamlined end-of-week payroll approval process
Powerful and automated reporting capabilities
Extensive minor compliance management
Corporate-defined views and capabilities
Associate self-service allows for recording transactions and review of timecard and schedule
Turn any mobile device into a timeclock
Logile Clock transforms your mobile device to deliver cost-effective, responsive time and attendance. Complete with interpretive support for attestation and predictive scheduling, our mobile clock is flexible, smart and compliant to give you maximum agility and freedom.
Key benefits
Reduced overtime and labor costs
Streamlined administrative processing
Accurately manages time clock punches and pay totalization for payroll
Integrates with HR/payroll system of your choice
Integrated analytics allows for real-time data projections with proactive, actionable metrics to monitor and alert management to critical performance data that affect labor and profitability
Timely rollup of hours and payroll for KPI reporting on dashboards
Schedule adherence enforcement including time clock lockouts and reporting
Manages attendance programs and exception report including system alerts
Alerts associated with open or missing punches
Full audit trail management associated with all manual punches or changes
Document and report on break punches if required or desired
Special monitoring and alerts for minor and predictive scheduling rule violations
Monitoring of completed work and remaining schedule to alert for approaching overtime or violation of part-time to full-time threshold
Archives data as needed for wage and hours compliance
Supports a workflow for associate review, signoff or attestation of compliance with all policies
---
Health & Temperature Scanning
Protect public safety with highest accuracy configurable to your needs.
Now organizations of all types can effectively protect employees, customers and visitors with efficient, touch-free health and temperature scanning and access control customizable to local health mandates and policies.
In today's changed world, organizations must proactively protect the safety of employees, customers and the general public.
The Health & Temperature Scanner (HT Scanner) offers a powerful scanning and access control solution uniquely configurable to the needs of retailers, manufacturers, warehouse and distribution centers, hospitality, educational and medical facilities, and more.
Reduce risk and exposure with touch-free health and temperature scanning
Infrared temperature reading accuracy of 99.7 percent
Multiple identification options: facial recognition with or without a mask, finger template, numeric, card reader, anonymous and more
Voice control
Mask detection and health and risk attestation questions configured to local and organizational requirements
Targeted communication including video
On-the-spot messaging of next steps for individuals presenting elevated health risk
Alerts sent per escalation policies for access decisions and control
Secure encrypted data and configurable data storage
Operates with physical access control systems, employee feeds or any time and attendance system
Bolster your existing safety protocols
Enhance your current precautionary practices and address increased health and safety expectations with confidence. Combining commercial-grade hardware with a customizable workflow engine, the HT Scanner brings you unrivaled resilience and the flexibility to effectively protect your people and premises.
Key Benefits
Easy and economical to implement, administer and use
Support biometric identification, temperature screening and attestation
Shows visible commitment to maintaining a healthy work and shopping environment
Shows commitment to workforce for maintaining their safety
Supports added commitment to food safety programs and risk management
Enables compliance with regulatory health mandates and policies
Deters employees from spreading sickness to avoid disruption to customer service and productivity
Inspires brand confidence to associates and customers