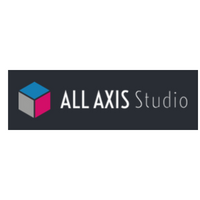 All Axis Studio
Stand: 5A40
| Augmented reality/Virtual Reality
| Digital Shopper Analytics & Engagement
| User Experience & UX Design
| Brand experience
| Optimisation & Personalisation Technology
"Goodbye boring static images 👋, Hello interactivity!
At All Axis, we create fully interactive 3D photos of footwear for e-commerce sites. It creates an engaging customer experience and is proven to boost online sales.
Our clients have measured the following benefits:
– 226% Increase in online conversions 📈
– 52% additional time spent on page ⏱️
– 56% decrease in bounce rate ⛹️‍♀️
By using photography, our 3D solution will give an utterly faithful depiction.
Our unique 3D viewer will load instantly on page load, the same as a stock photo. This means your customer will never be left staring at a blank screen. Our 3D photo will seamlessly integrate with any platform, from Shopify to WordPress, but we are on hand to help at every step.
Our aim is to democratise 3D. We work with start-ups to enterprise companies. Speak to us to see how we can create your products in 3D."