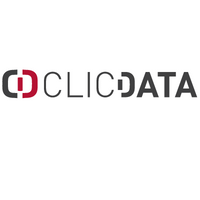 ClicData
Stand: 6A54
| Audience Management
| Data Warehouse/Decision Support
| Price Tracking, Conversion Tools & Analytics
| Big Data Analytics & Insights
| Business Intelligence
Are you drowning in your marketing, sales, inventory data?
Struggling to efficiently make sense of it all?
ClicData empowers any retail business to improve their performance through an end-to-end, cloud-based data platform. With ClicData, you can easily connect, manage, analyse, visualise and collaborate with relevant and unified data to make informed decisions in a timely manner.
We save you time, increase efficiency & help you drive business growth – and all through a powerful, smart and easy data platform.
Address
New Kings Beam House
22 Upper Ground
Floor 4
London
SE1 9PD
United Kingdom