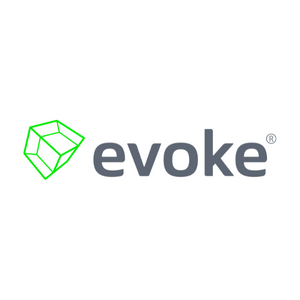 Evoke
Stand: 5D35
| Content Creators
| Digital Menu Boards
| DOOH/Outdoor Signage
| LED Signage
| Digital Signage Kiosks
| Totems
| Video Walls
| Point of Purchase Tools
| Kiosks
| Epos Solutions
Over the last 10 years we are proud of our growth and the digital solutions we have delivered for our trusted customers. Evoke are firmly recognised as digital experts in Retail, Hospitality, Transport and Public service sectors. Why? Because our innovative digital solutions solve the big problems that our customers have, we provide impactful solutions that enhance operational efficiency and drive commercial growth.
Consumers are demanding speed, efficiency, and experience when they shop in physical retail – our digital solutions help you strengthen that relationship and bring your brand closer to the consumer. Maturing consumers are digital natives, so it's imperative that your brand communicates with them holistically, through a fully connected mobile app experience. Our dedicated in-house brand APPOSING are experts in leading the consumer through an online and offline purchase journey.
From powerful digital signage, indoor and outdoor led displays, large format video walls, self-service kiosks, click and collect, RFID solutions and a connected app experience. Evoke provides the most immersive end to end customer experience possible.