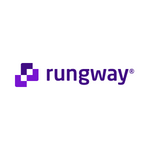 Rungway
| Big Data Analytics & Insights
| HR Management
| Communication Devices
| Connectivity
| Start-Up Safari

Change management technology that helps you lead your people through change.
Rungway is your continual drumbeat into your organisation helping you to listen, understand and react to the the most important ideas, advice and issues raised by all employees.
Leaders can get to know their people at scale through engaging in open dialogue which is seen by everyone, delivering maximum impact and reach.
Rungway helps you deliver faster and better change outcomes by telling you who to care about, why there may be resistance, best practice on how to lean into these emerging issues and the impact your communication has.