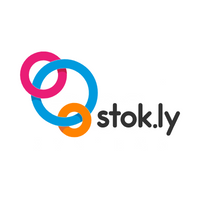 Stock.ly
Stand: 6D01
| Mobile Store & Warehouse Solutions
| Multi-Channel Solutions
| Inventory Management
| Replenishment
| POS/POP
| Inventory Management
| Epos Solutions
| Stocktaking
| Inventory & Order Management Systems
| Warehouse Management Systems
Stok.ly provides UK Retailers with a seamless, user friendly approach to multichannel eCommerce, B2C & B2B POS, telesales, field sales, real time inventory management, warehouse management and sales order processing, delivered via the cloud, for unlimited users, on any device.
Order management across all your channels, for both B2C and B2B with trade prices, quotes and customer account management. Warehouse management and real time inventory control across multiple locations with automated purchasing and store replenishment. Our Android Stock App helps your team complete daily tasks on your shop floor and warehouse accurately and efficiently.
Stok.ly offers plug and play integrations to all your eCommerce channels, ePos, Couriers and Accountancy software. Advanced reporting and insight tools provide all the data you and your team need to make the right decisions.
Address
rural enterprise centre
Vincent Carey Road
HEREFORD
Herefordshire
HR2 6FE
United Kingdom