25 Apr 2023
REFIVE IS MAKING PERSONALISATION POSSIBLE FOR EVERY IN-STORE CUSTOMER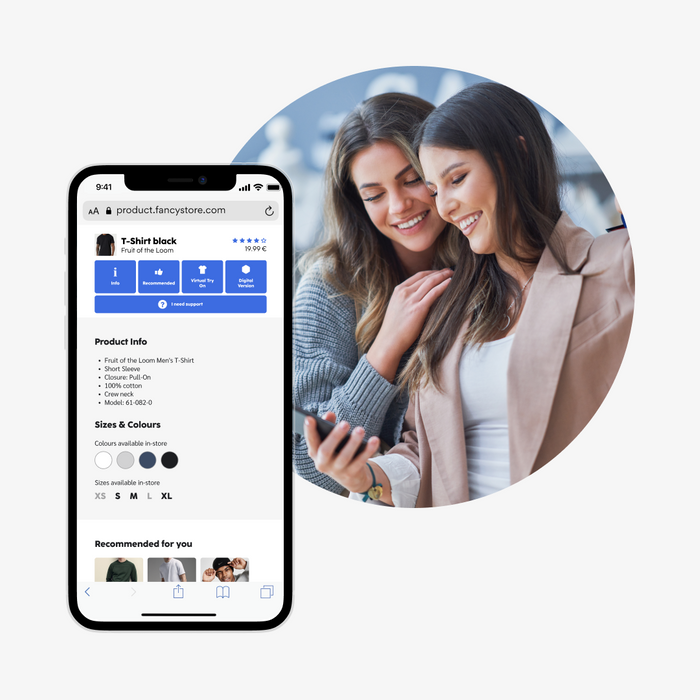 BERLIN, 24 April - refive, award-winning software company active in the area of digital receipts specialised for customer engagement and analytics, is now expanding its offering to help retailers personalise the entire in-store experience. As opposed to alternative approaches to identifying customers, using refive neither requires customer effort (app downloads, registration etc) nor technical (cameras, beacons etc) or operational overheads in-store.
As retailers began to implement refive's smart receipts and see in-store data capture rates of 70% and more, they recognised the value of a comprehensive view of their customers' behaviour and preferences. As a result, several brands expressed a desire to further leverage data capture and retention tools earlier in the customer journey, in addition to the checkout process. Based on this feedback, working closely with retailers, refive developed the new touchpoints - the Smart Store Assistant and the Smart Product Assistant. Both of these serve a dual purpose of providing personalisation and other benefits to customers while capturing customer data. By combining in-store with online data, refive can create granular customer profiles and generate AI-powered insights and predictions into customer behaviour to inform marketing and operational decisions.
"Physical stores are the space for customers to experience brands and products. The right in-store touchpoints can meet and exceed customer expectations with convenience and personalisation while also capturing valuable data for retailers," said Mitul Jain, co-founder and CEO of refive.
The Smart Store Assistant allows retailers to start building a customer relationship from the moment people step into the store, with a QR code or NFC tag at the entrance that provides wifi access, store maps, personalised offers, and introduces visitors to the store's digital offerings such as loyalty programs, custom apps, or digital services.
The Smart Product Assistant helps customers make informed shopping decisions, with a QR code or NFC tag near/on the product that takes the customer to in-depth product information, recommends similar and complementary products or services, provides info on product availability in-store and online, offers virtual try-on, shows product reviews, and offers NFT purchase.
"We wanted to create digital touchpoints that are convenient, unobtrusive, and secure – customers choose when to interact and share data via their own device when ready with the option to stay anonymous." added Jain.
The goal for these digital touchpoints is to enable independence and self-sufficiency in-store, thus bringing the convenience and flexibility of online shopping to the physical retail space.
"As retailers switch from a channel-centric to a customer-centric approach, our ambition is to be the engine that ensures every shopper-retailer interaction is personalised and delightful," said Jain.
refive will be exhibiting at the Retail Technology Show in London on 26 and 27 April, where visitors can interact with all touchpoints and see the live data capture in the refive Customer Insights dashboard.
About refive
refive is a customer operating system on a mission to help retailers improve customer retention by enabling them to understand and engage their in-store customers in a personalised way. For more information on refive, visit https://www.refive.io