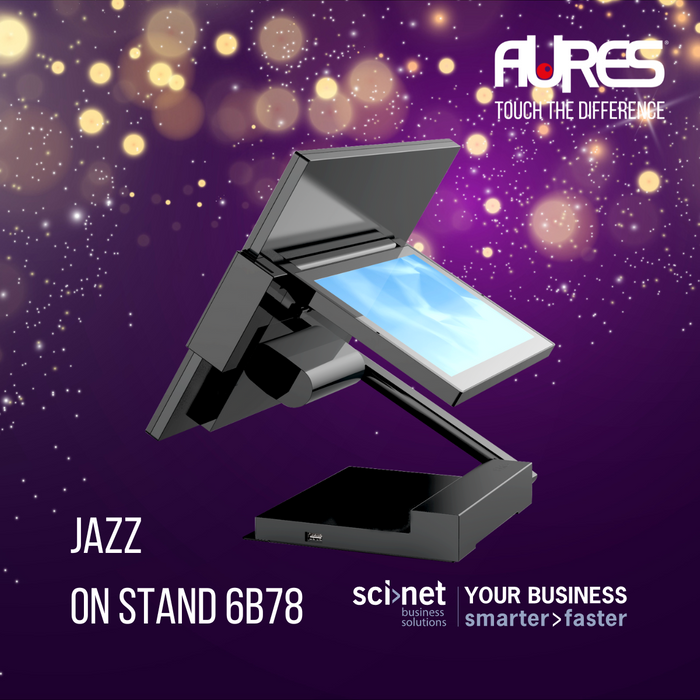 Adapting itself to any IT structure on the POS, the various options offered in the range make it possible to support and optimise all steps of the customer experience.
Available as a classic EPOS terminal, pole mounted (JAZZPOLE) or a Self-Check-Out Kiosk (JAZZSCO), this versatile hardware solution lends itself to a myriad of platforms. The motherboard of the JAZZ range supports three types of powerful, mobile and fan less embedded processors, namely the Intel range of processors, J1900, i3 and i5 thus futureproofing the JAZZ as the technology advances.
Using a clever drop and slide technique, the processor module can be replaced in a matter of seconds without the need for any tools, simply unclip the back cover and slide out the processor module.
The JAZZ incorporates new technology of connectivity using a single USB-C cable, which is more than capable of conducting multiple functions including power, USB and video data.
The attractive "Z" shape cast aluminium and zinc structure gives it strength and resilience and has the added benefit of optimum cooling when being used in the classic EPOS terminal position.
The double hinge design of the PCT Windows compatible touch screen allows for ease of height and angle adjustment right through to a completely flat position thus catering for all needs.