Flooid platform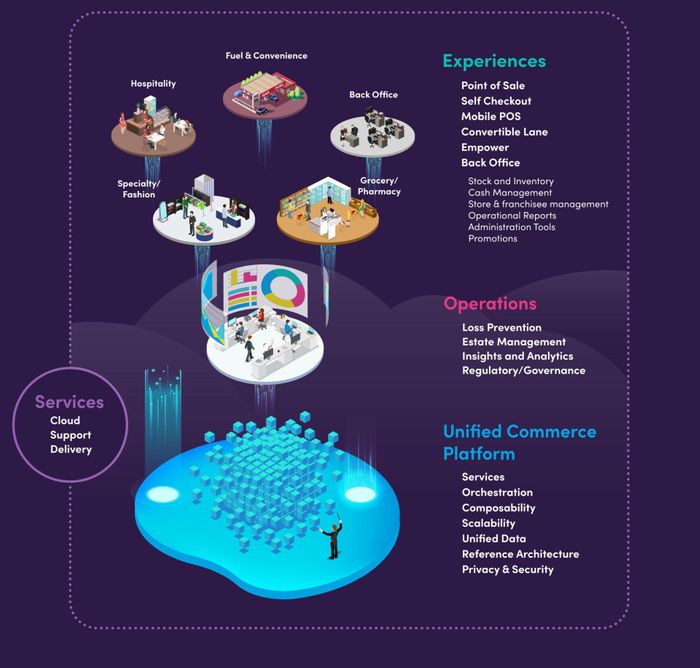 Key Features
One unified commerce platform. Endless possibilities.
Create the shopping experiences your customers demand with our powerful and resilient cloud native unified commerce platform. The openness and scalability of Flooid's platform allows you to connect leading tech partners into a single commerce solution to adapt to business change, innovate quickly and optimise for growth, today and for the future.
Unified commerce engine
Maintain a common single basket across every channel
A single place to store, process and share data including promotions, coupons, prices, taxation, receipts, payment and more.
A powerful transaction backbone and central repository of data allows for complete consistency and accuracy across any customer touchpoint – POS, mobile, self scan, self checkout, kiosks and any other customer or associate touch point you can imagine.
Open services ecosystem
Build new or extend existing selling opportunities
The Flooid platform uses stateless services to deliver truly flexible composable commerce.
Flooid provides the services (the 'engine'), while front-end applications (the 'heads') can be provided by Flooid, by other application vendors, or can be developed by the retailer directly.
Cloud done right
Move to the cloud and protect your investment
Deploy in Google Cloud for greater speed, then ramp up and down as and when.
Leverage infrastructure to meet business continuity goals and maximise the cost of compute, storage, network and other infrastructure.
Built for innovation
Extend the power of the Flooid platform and bring transformational experiences to your stores
The Flooid platform is architected for flexibility and allows you to choose best of breed providers to plug in the tools and systems your business counts on, quickly and cost-effectively.
Integrate and implement quickly in collaboration with partners including Accenture, Microsoft, Intel, Adobe, IBM, SAP, Google and more.
Leverage Flooid's APIs to test and develop new customer experiences and digital concepts faster.
Second to none estate management tools and services
Optimise the operation of your entire retail enterprise with our full suite of powerful back-office solutions and managed services
Loss Prevention
Look after your bottom line with vital real-time data to help identify lost revenues.
Estate Management
Streamline your processes on Flooid's cloud platform and stay on top of data updates, performance optimisation and always available operations information.
Alerts & Monitoring
Leverage Flooid's cloud platform and be confident your stores and estate are optimally working at all times with monitoring and alerting capabilities.
Globalisation
Flooid makes global and local compliance effortless covering tax compliance, regulatory requirements, regional payment methods, and hardware regional configurations.
Reporting & Insights
Empower your teams with Flooid Insights providing data, trends, analytics and interactive dashboards connecting your 1st & 3rd party transaction and system data.
Meet your customers on the channel of their choice with flexible shopping experiences
POS
All your systems and touchpoints converging to provide seamless experiences with a single modern platform.
Self Checkout
Help your customers serve themselves safely, privately and simply with Flooid Self Checkout.
Convertible Lane
Address peaks and valleys of traffic in your stores by providing a fast way to add a cashier and convert a self checkout to an attended register and flush out queues.
Self Scan
Let customers be in control of their shopping journey with self scan, while ensuring they can pay with their preferred payment type and get help when they need it.
Mobile
Empower your associates to deliver personalised service, break up queues, and maximise upselling opportunities.
Launch new omnichannel services to generate lasting loyalty
Omnichannel journeys
Support click and collect instore and curbside collection, never miss a sale with shipping and alternative pickup options and ensure that no matter where customers shop they can return or exchange in the physical store.
Personalised Offers
Deliver the right offers, at the right time, to the right customers, across any channel.
Always be innovating
Our platform and flexibility in partnering with world class technology companies for a true best of breed retail store solution sets us apart. It provides limitless opportunities to adapt to the fast pace of retail.
Whether it's CRM, ERP, payments or promotions, you choose what you want, then decide whether to build in-house, use our partners or deploy out-of-the-box from Flooid's ready-made capability stack.