POS Software and Age Verification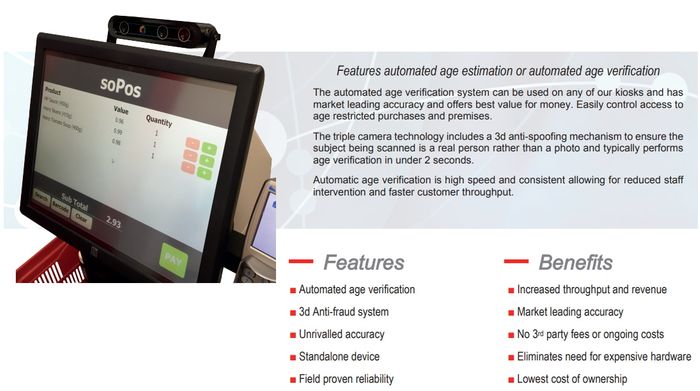 The automated age verification system can be used on any of our kiosks and has market leading accuracy and offers best value for money. Easily control access to age restricted purchases and premises. The triple camera technology includes a 3d anti-spoofing mechanism to ensure the subject being scanned is a real person rather than a photo and typically performs age verification in under 2 seconds. Automatic age verification is high speed and consistent allowing for reduced staff intervention and faster customer throughput.
Our system is so intuitive that transactions can be completed in seconds ensuring that customer queue times are kept to an absolute minimum. Sales, refunds and exchanges can all be completed simply and all staff training can be completed within minutes. Simple interface allows you to effortlessly add, edit and manage all your product information from any location and device. Enter essential information such as product code, description, price and supplier details. Stay informed & connected while on the go with remote monitoring using any browser allowing real-time updates. The dashboard gives you an instant overview of sales for a given site, group or the whole business.