Posiflex RT-5116 15.6" i5 POS Terminal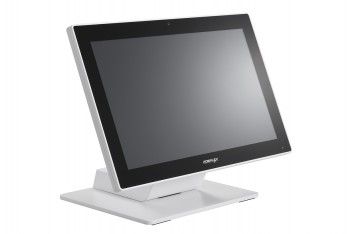 Slim & Stylish Look
With sleek contours, ultra-slim body, and linear rear cover surface, the RT-5116 features a 15.6″ PCAP touch screen, and full suite of ports that are hidden in the clean rear cover. No screws can be found on its surface maintaining a neat and sleek look.
Patented Fanless Technology
The patented fan-less technology allows the terminal to run quietly in all kinds of harsh conditions and – at the same time – provides a long service life.

Clean Cable Management
Advanced cable management design delivers a truly clutter-free station. The standard base can house the optional Powered USB or USB extension module, while the optional base integrates a UPS backup (RB-5000) for the event of a power failure.
Faster Installation and Serviceability
Rear cover can be removed easily and without tools, thus allowing faster installation and serviceability.
Save Your Time and Money
The terminal can be shipped with customer line display or 9.7" / 10" 2nd customer facing LCD display attached and folded, saving deployment time as well as shipping costs.
Complete your POS bundle by adding a cash drawer and printer to your order.
The ForPOS range of cash drawers will meet any retail and hospitality need. Heavy duty for harsh environments or flip top for a compact space saver the ForPOS range of cash drawers offer reliability and high quality.
ForPOS also offer a wide range of receipt, label and mobile printers. Compatible with all major operating systems and with a range interface options and accessories.