T-iX cash counter range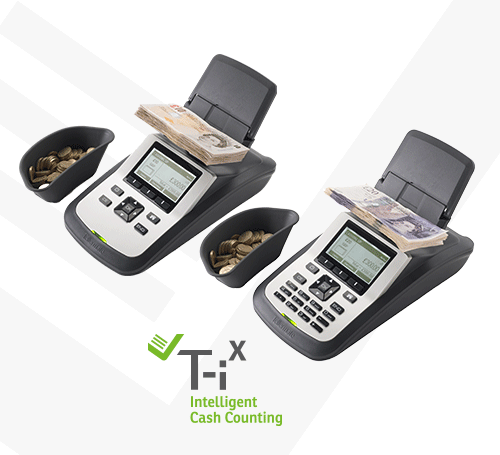 Counting money is a laborious yet crucial activity that many businesses must undertake on a daily basis. And with the majority of businesses still taking more than half of their revenues in cash, cash management remains one of the largest concerns for senior management across global retail companies.
We understand how important it is to streamline cash management across your stores. We've developed the T-ix range of money counting machines to help you achieve this. Regardless of the size of your business, the T-ix is able to help you reduce cash loss, save valuable time and streamline your money counting process.
Easy To Use
The T-ix cash counter has been developed to be easy to use. A large keypad and clear display makes the device effortless to use, even for first-time users. The intuitive menu structure has been designed to allow users to navigate quickly with minimal disruption. The cash counter is light, portable and tough, meaning that it is perfect for any cash handling environment.
Multiple Count Modes
Tellermate cash counters are able to accurately count the entire contents of a cash drawer in under 60 seconds making it an essential tool for any business that handles cash. By counting a broad range of banknote, coin and other media types, the T-ix is sure to satisfy your counting needs. So whether you are counting daily takings, investigating incidents of cash loss, or preparing bank deposits, the Tellermate cash counter will become an indispensable tool for your business.
Printer & Accessories
The T-ix can be combined with a Tellermate printer to increase the benefits of using a Money Counting Machine. Print outs can support investigations via a detailed audit trail, provide a means of checking discrepancies and confirm the time and duration of every count undertaken. This ensures adherence to process and provides a means of measuring store performance. We also provide a selection of other accessories for the T-ix range including cables, coin cups and rechargeable batteries for maximum mobility.