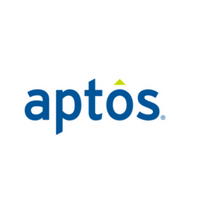 Aptos
Stand: Headline Theatre & Recharge Café Sponsor
| Big Data Analytics & Insights
| Price Tracking, Conversion Tools & Analytics
| Multi-Channel Solutions
| Inventory Management
| Merchandise Management & Master Data Management
| Replenishment
| Inventory Management
| Store Apps
| Inventory & Order Management Systems
In an era of virtually limitless choice, sustained competitive advantage only comes to retailers who truly understand their customers, what they want and why they buy. We are committed to a deep understanding of each of our clients and to fulfilling their needs with the retail industry's most comprehensive omnichannel solutions. More than 1,000 retail brands rely on our solutions to deliver every shopper a personalised, empowered and seamless experience — no matter when, where or how they shop.
Address
First Floor Templeback
10 Temple Back
Bristol
BS1 6FL
United Kingdom
Products
Retail is in the midst of rapid change. A global pandemic, combined with shifting consumer preferences, has dramatically altered what customers expect from the retail experience. Chief among these new ...

Customer experiences have never been so hard to achieve.  The ever-expanding variables between customers and products are making once straightforward shopper journeys more complex and less predictable ...
News
Global performance lifestyle brand to deploy microservices-based SaaS platform as foundation for modern retail operations ALPHARETTA, Ga. — Feb. 1, 2023 — Aptos, a recognized market leader in retail t ...

Global luxury brand relies on leading OMS to achieve an enterprise view of inventory and centrally and profitably manage orders ATLANTA — March 16, 2022 — Aptos, a recognised market leader in retail t ...

Premium retailer of athletic footwear and apparel to deploy Aptos' Merchandising and Analytics solutions  ATLANTA — January 25, 2022 — Aptos, a recognized market leader in retail technology solutions, ...

Built on the evolving Revionics AI platform, the Promotions Planning and Optimization solution gives retailers the tools they need to solve their most complex promotional challenges NEW YORK — Jan. 16 ...

Leading grocery retailer to deploy AI pricing tool across 200+ Carrefour locations in Southern Italy  ALPHARETTA, Ga. — November 29, 2022 — Revionics, an Aptos Company and provider of retail pricing, ...