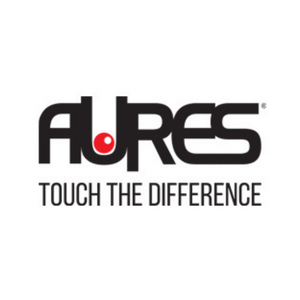 AURES Technologies UK
Stand: 6G48
| Digital Menu Boards
| Digital Signage Kiosks
| Cash Drawers
| Checkout Kiosks
| POS Payments
| Checkout Peripherals
| Kiosks
| Scanners/ Hand-Held Terminals
| Self-Checkout
| Epos Solutions

Innovative, high-performance, quality POS systems & self-service kiosks.
AURES Technologies, established back in 1989, are a global company providing award winning, robust Point of Sale solutions to the stadia, retail and hospitality industries.
Offering EPOS, Kiosks and Mobile POS wrapped with services including international support and pioneering product development, AURES are the perfect hardware and solution partner.
With key strategic investments in areas such as middleware, to realise hardware solutions across an estate of devices and innovative use of technology (via the group Level Innovation Division) such as RFID to provide future proofed, durable solutions that also have that signature, design lead build which is unique to AURES.
Address
Unit 2, Sycamore Court
Warrington Road
Manor Park
Runcorn
Cheshire
WA7 1RS
United Kingdom
Videos
SUPPORTING GROWTH OF A LEADING IRISH RETAIL BRAND

ULTRA-SMALL AND RELIABLE, THIS COMPACT AND FLEXIBLE EPOS OFFERS IMPROVED PERFORMANCE. Equipped with a Bay Trail J1900 processor and an SSD in standard (HDD is an option), Ninô II offers additional pow ...

ROBUST, YET COMPACT AND STYLISH EPOS SYSTEM YUNO is a robust but stylish and compact product, designed by AURES to suit the many applications of the POS vertical sectors. It is a fanless, compact, hig ...

DESIGNED TO FREE UP SPACE BENEATH YOUR TERMINAL'S TOUCHSCREEN! SANGO is an original and innovative all-in-one POS management terminal; one of its many unique features is to completely free-up the spac ...

VERSATILE AUTO-ROTATIVE POS SYSTEM WITH CONTEMPORARY GEOMETRIC DESIGN TWIST is a minimalistic designed, ultra-compact POS terminal where style has not been sacrificed for functionality nor functionali ...

EXCLUSIVE CONCENTRATE OF INNOVATIVE TECHNOLOGIES AURES presents JAZZ, a revolutionary new concept in POS hardware that offers a wide-ranging choice of configurations to suit any environment, whilst sa ...

WALL-MOUNTED OR FREESTANDING KIOSK - SINGLE OR DOUBLE SIDED SOLUTION Available in wall-mounted or "standalone" mode, in a single or a double-sided configuration (two back-to-back screens), the design ...