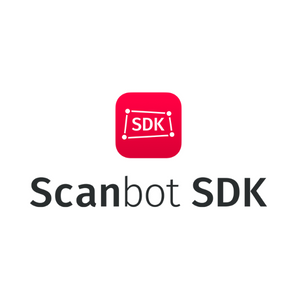 Scanbot SDK
Stand: 6H40
| Augmented reality/Virtual Reality
| Click & Collect Solutions
| Mobile Store & Warehouse Solutions
| Inventory Management
| Scanners/ Hand-Held Terminals
| Self-Checkout
| Inventory Management
| Stocktaking
Scanbot offers a B2B product, the Scanbot Software Development Kit (SDK), enabling enterprises to easily integrate reliable data capture capabilities such as barcode scanning, document detection & scanning, and data extraction functionalities into their mobile (iOS / Android) and web applications. Especially in retail, our solutions are used for self-checkout, inventory management, clienteling, and ordering processes. With a barcode scanning speed of 0.2 seconds, we are the market leader and bring our customers the "WOW"-effect they want in their applications.
Our software is offered on a global scale. The Scanbot SDK's customer base ranges from SME's to Fortune 500 and Dax 30 companies across various industries. In addition to large corporations like Telekom, Generali, and Axa, our customer base also includes retail companies like Rimi Baltic, BarTrack, Acardo, and well-known retail chains.
We look forward to meeting you at the Retail Technology Show and partnering with you to solve your individual mobile data capture use case.
Products
Turn mobile devices into fast and reliable barcode scanners! The Scanbot Barcode Scanner SDK is an easy-to-use, fast, and reliable solution for all your barcode scanning needs.  In operational retail ...