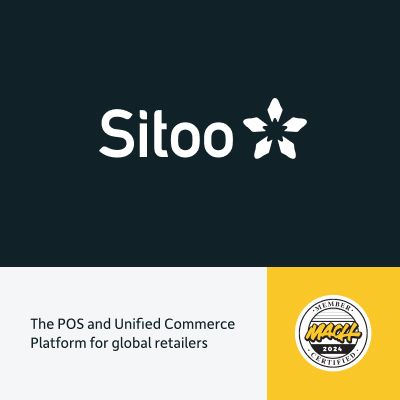 Sitoo
Stand: 6G10
| Point of Purchase Tools
| Click & Collect Solutions
| Multi-Channel Solutions
| Omnichannel Payments
| POS/POP
| Cloud Solutions
| Labelling & Ticketing Software
| Self-Checkout
| Inventory Management
| Stocktaking
Sitoo, the cloud-native Unified Commerce Platform anchored by POS, helps global fashion and lifestyle retailers create positive shopping experiences every time and everywhere. Driven by the belief that shopping should be simple and seamless, Sitoo enables retailers to unify all physical stores and online sales channels in real time.
Sitoo is part of the prestigious MACH Alliance and, with game-changing retail tech and a mobile-first POS, gives retailers the foundations and the flexibility they need to run their stores on their terms.
The fast growing tech company based out of Sweden also has offices in Denmark, UK, and the Netherlands. The POS is compliant in 40+ countries and trusted by 300+ brands and retail chains in Europe, Asia-Pacific, Middle-East and North America.
Videos
Jens Levin, CEO of Sitoo, sat down with Bård Kvamme, Retail Director of Norrøna, to share their view on best-of-breed mindset and unlimited flexibility are combining to change the face of retail.

Check out this interview with Nudie Jeans' Matthew Stone. We dig into sustainability, the importance of physical stores, and what the future of retail holds. You're not going to want to miss this one!

Check out this great interview with LAKRIDS BY BÜLOW's Michael Ewald Hansen. We dig into the customer experience, unified sales channels and MACH technology.
News
Sitoo has been recognized for its exceptional performance and innovative contributions to the retail sector and has been selected as a finalist for awards in three categories.

Can we get some love for an Android-powered, mobile-first POS? Flexibility is fundamental in retail right now and that includes being able to choose what platform you use. Click here to read more.