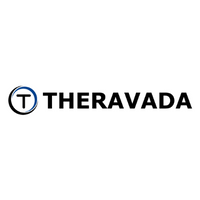 Theravada Solutions
Stand: 6J85
| Digital Menu Boards
| DOOH/Outdoor Signage
| Digital Signage Kiosks
| Video Walls
| Proximity Sensors
| Help Desk Service
| IT Infrastructure Management & Security
| Smart Labels/RFID Tags
| EPOS Solutions
Theravada is a digital solutions company, specialising in the Hospitality, Health and Retail sectors. We build, deploy and support highly innovative digital solutions that elevate customer experiences, drive revenue and enhance brands.
Digital Cabinets including the award-winning Krispy Kreme cabinet.
Drive-Thrus from end to end.
Complete Store Solutions from infrastructure to CCTV, POS/PEDS/PDA, WIFI, DMBs, Video Walls, Networks, Security and Access Control.
Digital Displays including Video Walls, Menu Boards, Window Displays, Electronic Shelf Edges & Custom Solutions all underpinned with nationwide engineering and UK Help Desks.
At RTS we will be displaying two brand new cabinet concepts - one for hot holding and one for chilled drinks. Both feature full digital displays, provide important consumer information (allergens, nutritional info etc) with all content managed from a central location at the touch of a button. We will also be launching new digital shelf edge displays. These are not intended for the mass market i.e. supermarket shelves, but will be used to enhance several common consumer experiences that we believe will be of great interest to the wine and broader retail sectors.
We look forward to meeting you at the show.
Address
4 Camberley Business Centre
Stanhope Road
Bracebridge
Camberley
United Kingdom