24 Feb 2022
Amazon Just Walk Out, HP and Worldpay join 170+ tech innovators exhibiting at Retail Technology Show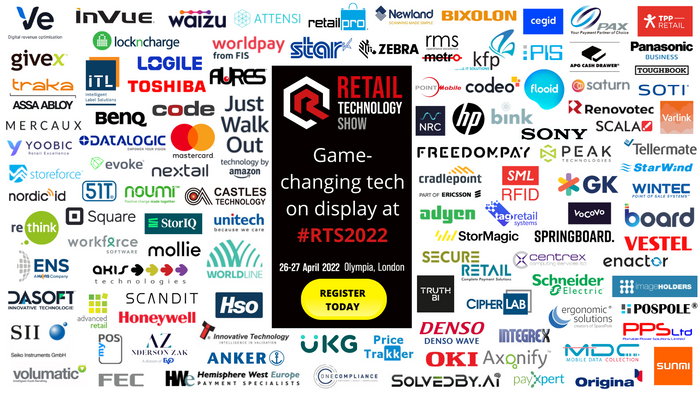 24 February, 2022 – London – Retail Technology Show 2022's hotbed of hot retail tech 'just walked in' – with innovators including Amazon Just Walk Out, HP, WorldPay and Zebra confirmed to exhibit at the 2022 expo. As the new flagship event for retail, the Retail Technology Show will take place at London's Olympia on 26-27 April 2022, and bring together over 170 cutting-edge tech innovators as part of its exhibitor programme.
A hotbed of hot tech.
The Retail Technology Show will shine a light on the latest innovations fast-forwarding digital transformation across the full spectrum of retailers' operations. From technology providers spanning new ecommerce capabilities to ground-breaking solutions to power payments, future-proof supply chains, optimise operations and empower the retail workforce of the future, over 170+ innovators will exhibit at the two-day event and will range from established enterprise solutions – including Amazon Just Walk Out, HP, WorldPay, Star Micronics and Zebra – to new disruptors and fast growth start-ups.
Discover first-look innovation that delivers first-mover advantage
A dedicated Discovery Zone will offer retailers the chance to get ahead of the innovation curve and experience the newest innovations available to the market, which will be showcased for the first time at the show. From queue management solution, Akis Technologies, to AR and VR specialists, Realmore, sustainable impact SaaS solution, Dayrize, and mobile analytics platform, Waizu, the Discovery Zone will showcase a first-look at the new solutions that can help retailers create first-mover advantage.
A spotlight on start-up innovation
Baringa's Start-Up Safari offers a curated tour of the hottest next-gen tech from retail disruptors giving retailers a first-look at some of the most future-forward innovations set to shake up the industry. Lucy Larkin, Partner in the Consumer Products & Retail team at Baringa, commented: "It's exciting for the many brilliant new businesses out there, who get to make connections across the industry. It's also a timely reminder of the vibrant, high-octane nature of the UK start-up community."
Championing digital transformation - Innovation Awards
Once again Retail Technology Show's Innovation Trail and Awards will recognise the top ten technology solutions at the show. The highly competitive Innovation Awards recognise and celebrate the biggest innovators at the show, whose game-changing products and service are reshaping retailers' operations and reimagining the art of the possible through technological advancement. The shortlist of must-see tech will be featured in the Retail Technology Show Innovation Trail, with the winner crowned at the 'BIG Retail Reunion Party', taking place at the end of Day 1 (26 April).
The BIG Retail Reunion Party
As well as playing host to the Retail Technology Show's Innovation Awards, the BIG Retail Reunion Party, taking place in the Champagne Bar on Day 1 offers retailers a chance to raise a glass and celebrate the retail industry reuniting over drinks, live music and entertainment.
Matt Bradley, Event Director for the Retail Technology Show, commented: "Technology has underpinned retail's post-pandemic recovery and will be the cornerstone of success for the brands and retailers of the future. With the unprecedented pace and scale of innovation in the industry, we've had to match this by meticulously curating the most future-forward technologies across the retail spectrum and bringing them all together under one roof, to deliver unrivalled value and opportunities for retailers to reimagine and future-proof their operations for success."
Registration to the event that brings together Europe's leading tech innovators and most forward-thinking retailers and brands is open. To register to attend, visit: https://bit.ly/RTS22prreg