23 Jun 2023
The party is on PMC at next year's Retail Technology Show!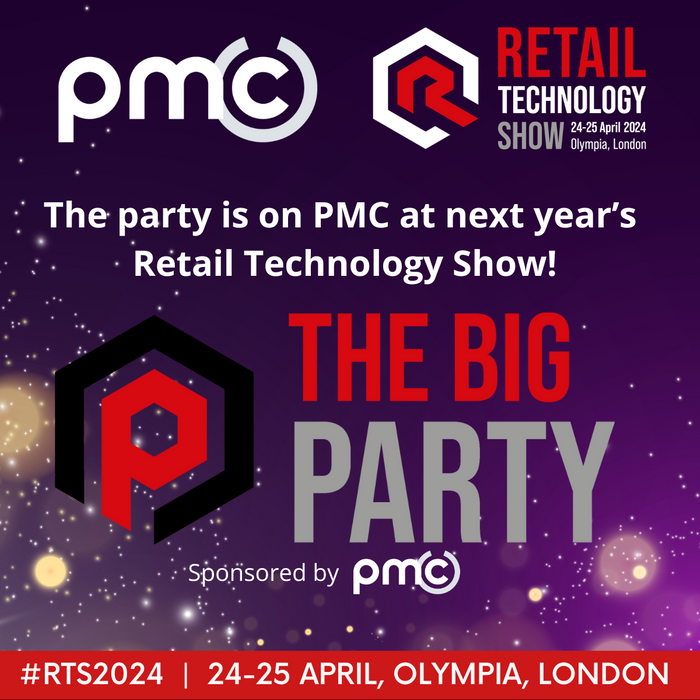 From 24-25 April 2024 the Retail Technology Show will be back at London's Olympia, and we're delighted to announce that PMC will be sponsoring the Champagne Bar and BIG Retail Party next year.
Taking centre stage at this busy two-day event aimed at retailers and tech innovators, the Champagne Bar is a popular congregation point for networking and ideas sharing. At the end of day 1, we celebrate and champion the innovators in our industry with an all-drinks-on-the house BIG Retail Party and the announcement of the winners of the coveted Retail Technology Show Innovation Awards.
Simon Curtis, Chief Commercial Officer at PMC says "PMC was founded on great people solving problems and working in partnership with technology vendors to deliver value for retailers. Over the years we have grown into the UK's fastest growing technology services partner for retail - but we've never forgotten our roots. We remain to this day a people-first company. The Retail Technology Show echoes our belief that bringing people together is what will enable collaboration, inspire innovation and ultimately propel our industry forward.
As the leading technology services provider for retail, we're proud to support this event, and provide a platform for our peers, customers and the wider retail community to better understand the challenges of today and the needs of tomorrow."
Michelle Thomas, Sales Director for the Retail Technology Show, commented "We are grateful for PMC's support and sponsorship of the BIG Retail Party and Champagne Bar. Their commitment to bringing people together and driving innovation in the retail technology space aligns perfectly with the goals of the Retail Technology Show. We are confident retail's largest gathering to celebrate innovation and the industry will certainly be one not to miss next year!"
The Retail Technology Show returns to London's Olympia on 24-25 April 2024. To register your interest in attending and stay connected throughout the year, register here: Register your interest in the Retail Technology Show.
_________________
About PMC:
PMC is a technology service partner with a vision to deliver better technology outcomes for retailers and B2C businesses. With a passion for helping retailers deliver engaging customer experiences, they provide technology services, solutions, and consulting in the retail transformation space.
Website URL: https://www.pmcretail.com/
LinkedIn URL: https://www.linkedin.com/company/pmcretail
Twitter URL: https://twitter.com/PMCRetail
About Retail Technology Show:
The Retail Technology Show is the must visit event for all retail and hospitality organisations looking for the right tools, solutions and advice on how to run their business more effectively, more efficiently, and more profitably, resulting in seamless multichannel operations and enhanced customer experience.
Bringing together the world's most innovative solution providers and retailers from across the UK and Europe, this is the platform to retail's future success through tech and digital innovation.