12 May 2022
Retail Technology Show brings the industry back together in UK's largest gathering of retailers since the pandemic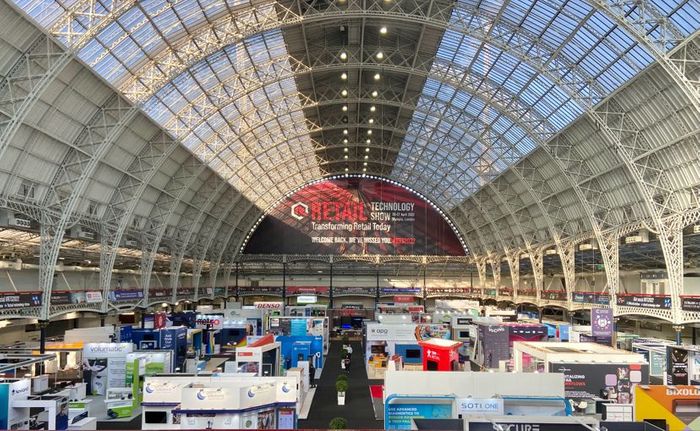 Retail Technology Show, the new flagship show for retail that brings together future-forward innovators and Europe's most forward-thinking retailers, saw over 6,850 retail professionals attend the two day event, held on 26 & 27 April at London's Olympia.
As the event that reunited retail, Retail Technology Show provided the opportunity to network, discover and share best practice at the industry's first large-scale, in-person trade show and conference held since the pandemic. Turning out in force, senior level retail decision-makers from leading international brands joined 200+ technology exhibitors on the show floor and 90+ industry luminaries who spoke on the conference programme. This culminated in the event becoming a 'who's who' of retail, with 80% of the UK's Top 25 retailers and brands in attendance, including Amazon, Asos, B&Q, Dunelm, Tesco, Next and Boots.
Analysis of the 6,850 senior retailers who attended Retail Technology Show revealed almost half (48%) were from Tier 1 retailers and over three quarters (76%) of visitors came from either Tier 1 or 2 retail businesses. Similarly, over a third (34%) of those visiting the show had store estates of 500+ stores, while pureplay retailers made up 11% of the show audience.
Retailers visiting the show sent a strong, senior level field, with 81% of Retail Technology Show visitors either 'Heads of', 'Senior Management' or 'C-Suite' – and thanks to this level of seniority, 80% of the show visitors had decision-making authority or influence when it came to specifying technology or investing in innovation. Fashion retailers accounted for 30% of show visitors, followed by grocers who made up 16% of attendees and health & beauty (11%).
With an unprecedented amount of disruption in the retail space – from the pandemic to upended global supply chains and new and emerging consumer buying behaviours – keeping ahead of industry trends, consumer insights and forecasts was the top motivation for retailers visiting the show, while a further 13% wanted to seek out best practice through speaker sessions and presentations. This is where the conference programme, which brought retail leaders to the stage to tackle the latest trends and most pressing issues, came into its own, with headline sessions from New Look's Chairman, Mike Coupe, former Dream's CEO Mike Logue, Deliciously Ella's founder Ella Mills and Dragon's Den entrepreneur Sam Jones and his investor Tinie Tempah.
Commenting on the show, New Look's Coupe commented: "It's great to be at the Retail Technology show, there is an amazing buzz around the place," while Deliciously Ella's Ella Mills added: "The amount of inspiration you get from being here, seeing amazing new trends, listening to fantastic summits [and] really inspiring speakers… getting grips with what is happening in the market, it's a really exciting opportunity."

Of the 27% of Retail Technology Show visitors whose primary motivation for attending was to discover new tech and learn about the latest innovation and product offerings, over 200 technology providers featured on the show floor and delivered a 'one-stop shop' for innovation, spanning the entire retail technology spectrum. The Discovery Zone, featuring the very latest tech to deliver first-mover advantage, and the Start-Up Safari, which shone a spotlight on high-octane tech start-ups, showcased new, game-changing tech to revolutionise retailers' capabilities.
And, after a two-year hiatus on in-person events due to the pandemic, networking with industry peers and partners was high on visitors' agendas, with a further 27% saying networking was their top reason for attending, prompting a huge buzz as the industry celebrated being together again at retail's BIG Reunion Party at the end of Day 1.
Jeremy Schwartz, Former Chairman & CEO The Body Shop, commented: "It's been a fantastic retail technology show. I really recommend you come next year," while Dean Frew, CTO at SML-RFID, also added: "There is no show like this in the UK. If you're a retailer and on the tech side of the business, this is the show to come to."
Matt Bradley, Event Director for the Retail Technology Show, commented: "After the disruption of the last two years, the time was right for retail to reunite – so we knew Retail Technology Show would be an unmissable event that would bring the industry back together. Retail's biggest names and most senior teams reunited with the industry's best innovators to bring an electric vibe and undeniable buzz to Olympia, allowing the industry to connect, collaborate and set a course for success in retail's new landscape."
The Retail Technology Show returns again on 26 & 27 April 2023 at London Olympia. To register your interest and stay connected throughout the year, register here: https://www.retailtechnologyshow.com