05 May 2023
Retail Technology Show delivers retail's golden ticket event, attracting thousands of visitors to London Olympia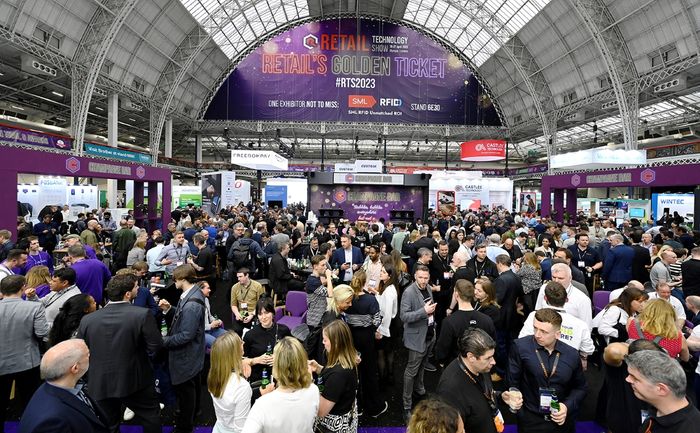 05 May 2022 – London, UK -- Retail Technology Show, the flagship event that brings together Europe's most forward-thinking retailers and leading tech innovators, delivered a golden ticket event that saw nearly 10,000 retail professionals attend the expo, held over two-days at London's Olympia on 26 & 27 April.
9963 retail professionals visited the 2023 Retail Technology Show, an increase of +45% from 2022 when 6850 visitors attended – including representatives from each of the UK's top 50 retail brands registered to attend. They were joined by 306 technology vendors, with the exhibition space sold out with four weeks before the event, who showcased the latest innovations to drive the industry forwards.
Over 100 retail trailblazers, explored and addressed the hottest topics redefining retail on the conference stages. Headliners, including Queen of Shops Mary Portas, former JD Sports CEO Peter Cowgill and broadcaster Jake Humphrey, lead the conference programme often delivering their keynote sessions to standing room only, capacity crowds. Dragon's Den star Steven Bartlett's session was so popular the gallery space was opened to accommodate hundreds of additional visitors wanting to join. A raft of other industry pioneers and leaders, including Abel & Cole, Farfetch, Coop, Currys and boohoo, also took to the stage.
With an extended exhibition floor, which added an additional 2,000m2 of exhibition space, the Retail Technology Show's one stop shop for innovation delivered even more variety and value to the senior retail visitors attending the 2023 event. 306 innovators – from tech's biggest players, fast-growth disruptors and future-forward start-ups – showcased their transformative solutions, spanning the full spectrum of tech to power every part of retailers' operations with many hosting happy-hours on their stands celebrating the opportunity to meet with prospects, contacts and friends once again. The Discovery Zone offered a first look at some of the newest retail tech on the market, while the Start-Up Safaris curated by Baringa allowed visitors to tour new technologies from high-octane start-ups.
The celebration of innovation culminated in the winner of the 2023 Innovation Awards being crowned at the BIG Retail Party on Day 1, complete with stilt walkers, glitter cannons and roaming musicians for the full retail festival feel, with circular retail SaaS platform, CircularX, announced as the winner. Chosen from a shortlist of ten best-in-class solutions, picked as shining examples of trailblazing tech that helps retailers drive their businesses forwards, the solution impressed the judges with its ability to allow retailers and brands to expand the circular services on offer at a time when demand for green retailing from shoppers is rising.
Matt Bradley, Event Director for the Retail Technology Show, commented: "Every year, we set the bar higher, and this year was no different. As the flagship event for retail, we need to be showcasing the cutting-edge innovation and insights that help retailers navigate the digital transformation needed to succeed again a backdrop of uncertainty, economic headwinds and radical consumer behavioural change. But, just as importantly, this is an event that celebrates the energetic, dynamic heart of retail and the people who drive it forward and the event certainly celebrated the work hard, play hard attitude that imbues the industry."
"Once again, we saw unrivalled innovation and tech championed on the show floor and the brightest minds in retail and beyond taking to the stages – this paired with a real festival feel and all the networking opportunities our visitors have come to expect from the Retail Technology Show, made for an unmissable event."
Looking ahead, the Retail Technology Show is back at London's Olympia in 2024 on 24-25 April. Due to unprecedented exhibitor demand, with 90% of the 2023 exhibition floor space rebooked onsite during this year's show, the exhibition space for 2024 will will increase by an additional 2250m2 to give retailers the opportunity to see even more of the most exciting and innovative retail solutions the world has to offer. To register your interest and stay connected throughout the year, register here: www.retailtechnologyshow.com/register-interest-2024