02 Mar 2022
New Look Chairman and former Sainsbury's CEO, Mike Coup, confirmed as keynote speaker at Retail Technology Show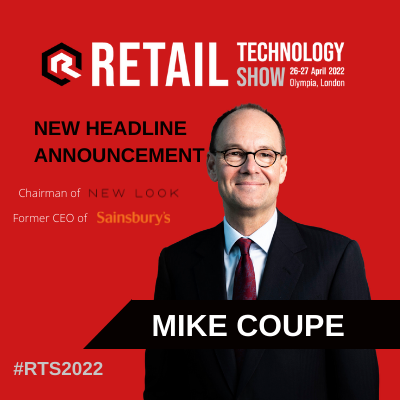 23 February, 2022 – London – Amazon, Farfetch, Very Group, Marks & Spencer and Morrisons are announced as just some of the retail industry's leading visionaries speaking at the Retail Technology Show, as the event, which brings together Europe's most forward-thinking retailers and leading tech innovators, announces its conference programme.
As the premier event that drives the industry forwards through innovation, Retail Technology Show will bring the brightest minds in retail to the stage during the two day event, taking at London's Olympia on 26-27 April 2022, with over 70 retail leaders and luminaries setting the retail agenda as part of its conference programme.
Comprising six key tracks that tackle the most pressing issues and industry trends, the three feature stages will cover every aspect of retailers' operations, showcasing best practice inspiration as well as practical hacks and advice, uncovering new shopper trends, and a look-ahead to the cutting-edge innovation driving change at pace and scale within the industry.
Ex-Sainsbury's CEO, Mike Coup, launches a look ahead on Leadership & Culture
Ex-Sainsbury's CEO and Non-Executive Chairman of New Look, Mike Coup, starts proceedings on Day One on the Headline Stage, for the show's Leadership & Culture track. His keynote session will explore new leadership strategies that retailers need to look towards in order to drive market share in 2022 and beyond.
The track, chaired by retail influencer Andrew Busby, will then explore key cultural evolutions shaping retail, including building a sustainable culture, as well as how retailers can embed Diversity & Inclusion into their organisations. An afternoon keynote panel discussion with Watch Shop CEO, Robin Phillips and JML's CEO, Ken Daly, will also future gaze to what retailing will look like in 2025.
The evolution driving Ecommerce Growth & Omnichannel
Theatre A, sponsored by Schnieder Electric, will play host to the Ecommerce Growth and Omnichannel track, which welcomes leaders from the Watch Shop, Marks & Spencer, Tool Station, Oliver Bonas and Heal's. Tackling key issues driving retailers' multichannel development – from the new role of the store in digital-first shopping journeys to marketplace strategies for success and using technology to reimagine customer experience across every touchpoint.
An eye on Innovation & Technology
Meanwhile, Theatre B, sponsored by workday.com, shines a spotlight on Innovation & Technology and will be chaired by Nick Lansley, former Head of Open Innovation at Tesco Labs, and will explore how innovation – from AI capabilities to the Metaverse - is shaping the retail landscape.
Farfetch's Senior Director of Data, Michele Di Gangi, joins Curry's Head of Decision Sciences, Robert Bates, and KFC's Head of Guest, Sezin Tumer, to discuss how retailers can unlock value from customer data, while Nisa Retail's Head of Central Operations, James Taylor, joins Samuel Mueller, CEO and Co-Founder of Scandit and Julian Fisher, CEO of Jisp, to showcase how AR is transforming in-store footfall, sales and loyalty.
Next generation strategies for Customer Obsession & Marketing
Day two sees the headline stageturn its attention to retailers' raison d'etre; their customers. Hosted by Chris Field, Chairman of Retail Connections, the Customer Obsession & Marketing track features hot topics including next-gen customer experience strategies, personalisation for evolved consumer cohorts and emerging shopper trends and behaviours that present new opportunities for retailers.
The Very Group's Digital Customer Experience Director, Paul Hornby, joins French Connection NED and True Fit MD, Sarah Curran Usher, to talk all things data, while Clarks' Head of Ecommerce, Marcus Oughton, discusses how to drive digital marketing ROI with Wunderkind's GM, Wulfric Light-Wilkson, while Montblanc, Halfords, and Blackwell's Bookshops join Laylo to look ahead to the online shopper of 2025.
Shining a spotlight on Supply Chain & Delivery
Schnieder Electric will once again will host Theatre A as the sponsor on Day Two, as the stage, chaired by Ann Summers NED, Julian Burnett, shines a spotlight on the Supply Chain & Delivery. From shoring up increasingly complex and turbulent supply chains to last mile expectations, stock availability and returns, Harrod's, Applegreen and Marks & Spencer are just some of the industry leaders showcasing new strategies to drive operational excellence.
A new dawn for Payments & Checkout
With new ways to pay and checkout formats evolving at pace, Amazon's Just Walk Out EMEA Lead, Max Gill, will deliver the keynote session on Day 2 as Theatre B explores the evolution of the payments space, chaired by Mark McMurtrie of the Payments Consultancy. From Just Walk Out innovation and check-out free shopping, the track uncovers key changes shaping how consumers transact, from the rise and rise of Buy Now Pay Later (BNPL) to the digitalisation of currencies and NFTs.
Crewe Clothing's Head of IT, Richard Surman, joins PMC's Elliot Winskill, to discuss the role of mobile payments, while Morrison's Head of Technology, Kate Lavery, and M&S's Principal Architect, Jamie Korda, outline look-ahead payments trends for the next five years in discussion with World Wide Web Consortium and Nexo Standard.
Matt Bradley, Event Director for the Retail Technology Show, commented: "Galvanised by the unprecedented pace and scale of innovation in the industry, we've brought together the very brightest minds in retail to discuss the burning topics of the day. From addressing the issues keeping retailers awake at night to forward-looking trends and future-gazing predictions to practical hacks and tips, each session offers unparalleled, 'no holds barred' insight to drive maximum value to the brands and retailers attending the show."
The leading retail speakers on the conference programme will join 170+ innovators exhibiting at Retail Technology Show, showcasing the latest cutting-edge technologies to digitally transform retailers' businesses. With innovation from technology providers spanning new ecommerce capabilities to new solutions to power payments, future-proof supply chains, optimise operations and empower the retail workforce, retailers can explore the full spectrum of retail technology for every part of their business, all under one roof at the Retail Technology Show.
Registration to the event that brings together Europe's leading tech innovators and most forward-thinking retailers and brands is open. To register to attend, visit: https://bit.ly/RTS22prreg