14 Feb 2023
Retail Technology Show and the RETHINK Retail announce strategic partnership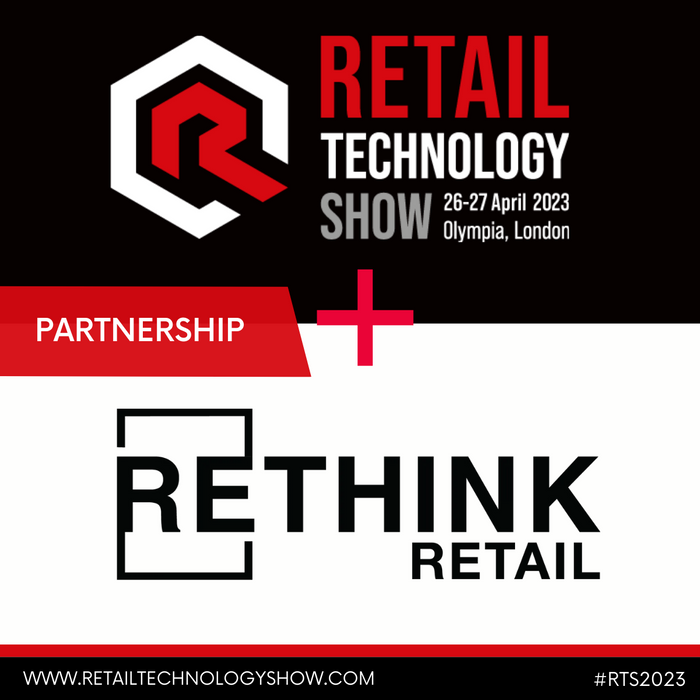 RETHINK Retail
, the leading global media company covering the B2B retail industry, is proud to announce its official partnership with the
Retail Technology Show (RTS)
, the premier event for retail technology and innovation in Europe.
RETHINK Retail, the leading global media company covering the B2B retail industry, is proud to announce its official partnership with the Retail Technology Show (RTS), a premier event for retail technology and innovation in Europe.
Launched in 2021, the Retail Technology Show is organized by the experienced team behind renowned conferences such as the RetailEXPO (formerly RBTE). RTS provides a space for retailers and technology providers to connect, learn and discover the latest innovations in the industry.
"We are delighted to have RETHINK Retail join us as a partner," said RTS Director and Founder Matt Bradley. "Their expertise and influence in the retail industry will greatly enhance the event and provide valuable insights for our attendees."
"We are thrilled to partner with RTS and be a part of this exciting flagship event," said Paul Lewis, CEO of RETHINK Retail. "This partnership highlights our ongoing efforts to expand our reach across the European retail markets, and in turn facilitate valuable knowledge exchanges through our platforms and retailer communities."
Ian Scott, who will be hosting a Store Tour to RTS attendees commented that, "As one of RETHINK Retail's Top Retail Influencers for 2023, I am thrilled to see this partnership come together," he continued, "RETHINK Retail's presence at the event will accelerate the speed of knowledge share between onsite participants and people who are tuning in online. As a British native, I believe this collaboration further solidifies RTS as the best event for retail technology and innovation in Europe."
The partnership between RETHINK Retail and RTS will bring together thought leaders and innovators from the retail industry to share ideas, insights and best practices, further supporting RETHINK Retail's efforts to expand its reach and impact across Europe.
To learn more about the Retail Technology Show (26-27 April, Olympia, London) and how to get involved, visit RTS' website.
For information on media coverage and how to attend exclusive invite-only store tours and parties with retail executives, reach out to RETHINK Retail at rts@rethink.industries.

About RETHINK Retail
RETHINK Retail is your go-to destination for executive-led insights into the trends and innovations that are transforming the global retail landscape. Through our award-winning podcasts, fresh, original and thought-provoking content series, and partnerships with the world's leading retail events, we reach an audience of the top retail decision-makers and industry thought leaders.
About Retail Technology Show
Connecting retail's change-makers, the Retail Technology Show brings together Europe's most forward-thinking retailers and leading tech innovators. It's the flagship event for retail technology, and a must attend event for retail and hospitality organisations looking for the right tools, solutions and advice on how to run their business more effectively, more efficiently, and more profitably, resulting in seamless multichannel operations and enhanced customer experience.